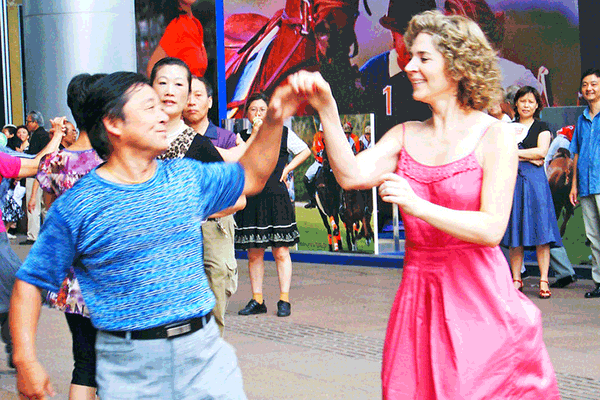 A man dances with an expat at Huaihai Road in Shanghai. [Photo/IC]
Under loosened visa policies in effect since July to attract more foreign talent to Shanghai, 12 times more expats have obtained permanent residence cards in the past five months than during the same period last year.
Since July 1, the Exit-Entry Administration Bureau of Shanghai's Public Security Bureau has issued 1,708 entry visas and residence permits for qualified expatriates to work and live in Shanghai-715 of which were permanent residence permits, or "green cards".
"Those new entry-exit policies issued earlier this year have successfully attracted and retained more high-talent foreign professionals to support the transformation of the city to be a scientific and technological innovation center," said Bai Shaokang, Shanghai's deputy mayor and director of public security, at a news conference on Monday held to summarize the policies.
Attracting creative talent from abroad to form an innovative, friendly atmosphere in Shanghai has been the main focus since early this year, as the city pursues its goal of becoming a global technological innovation center.
A dozen beneficial policies, including providing permanent residence permits for high-level overseas passport holders and giving subsidies to high-tech professionals, were begun in July to open Shanghai's door wider to the world.
"The beneficial policies will enable us to attract more young talented applicants with innovative ideas and experienced senior professionals from overseas," said Jan Anne Schelling, vice-president of human resources at DSM China, a Dutch material science company.
Schelling said he has noticed during his eight-year stay in Shanghai that more individuals in recent years have been coming from overseas by themselves to find jobs in local companies, while previously more of them were appointed to work in foreign companies with branches in China.
"Now the applicants focus more on what they can learn from the job with more potential opportunities, when they used to put salary as the top priority," said Schelling.
Furthermore, to create a more convenient living environment for overseas talent to better settle down in the city, the municipal government has begun to issue residence permits for the foreign housekeeping workers hired by high-level expats working and living in Shanghai.
Ten additional service points for foreign housekeepers will be set up-36 already exist to help such people register and prepare for work in the city.
A 15-day, visa-free entry policy has been proposed to allow foreign tourists passing Shanghai on cruises to visit the city.