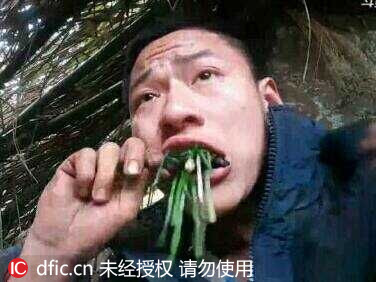 Two young Chinese men, Huang Zuhong and Fu Hailong recently took on a seven-day challenge to survive in the wild without any food, water or supplies, on a mountain in Southwest China's Chongqing. [Photo/IC]
Two young Chinese men recently took on a seven-day challenge to survive in the wild without any food, water or supplies, reported Chongqing Morning Post on Wednesday. They also broadcast the whole process online.
Both of the men, aged 20, are fans of Edward Michael "Bear" Grylls, widely known for his survival television series "Man vs. Wild."
Inspired by the show, the two young men, Huang Zuhong and Fu Hailong, started their seven-day challenge on Feb 16 on Huanggua Mountain, Southwest China's Chongqing municipality, with only knives, a hoe, flint, a fire extinguisher and a bucket of iron wires.
Their first day began with far more difficulties than they had imagined. It took them about five hours to build their camp, which was made out of bamboo and hay.
To keep up their energy, they had to eat everything they found as long as it was nontoxic, such as crawfish from the creek, worms and termites in rotten wood, as well as herbs and fruit. Huang even ate an earthworm and a spider.
At night, they had to take shifts to watch the fire, which they used for both light and boiling water. According to Huang, they could only sleep about three hours per day at most.
The fourth and fifth days were the hardest, as their bodies finally felt the effects of insufficient food, and their shelter also leaked when it rained. Luckily, they found some eels and snails in the rice field on the sixth day, which helped them to power through the toughest period.
"Online viewers expressed great support for us as we neared our mental and physical limits," Huang recalled.
The last day of the challenge coincided with the traditional Chinese Lantern Festival. It was also an unforgettable day for Huang and Fu, as they caught a rabbit and a vole. Both agreed that it was the best thing they ever ate.
"We are fine, just a little tired," Fu said after the challenge was done.
When asked about what they learned from the challenge, both men said that this experience will encourage them to get through any difficulties they encounter in the future. "Even though some say it is too dangerous, I know what I am doing and what I want," Fu said.
Hu Yongqiang, a gastroenterologist at a local hospital, recommended a physical checkup for Huang and Fu since consumption of uncooked food could lead to parasite infections and gastrointestinal bleeding. Hu also advised other people without survival skills not to follow suit.