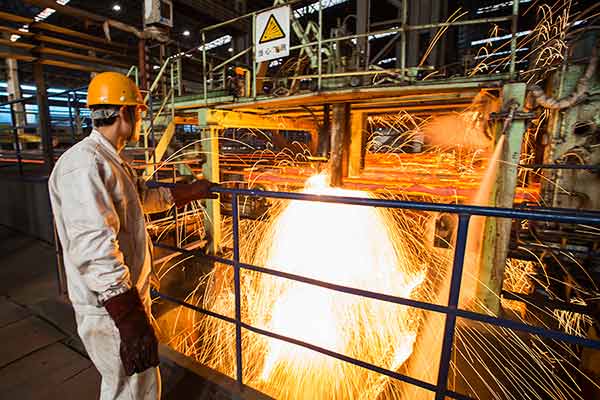 A worker at a steel company in Lianyungang, Jiangsu province, in January 2015. The steel sector will reduce capacity by 100 to 150 million metric tons in five years, according to China's top economic planner.[Photo by Si Wei/China Daily]
Cutting excess capacity can help countries in Belt and Road Initiative, head of NDRC says
China will not have another layoff wave as it reduces overcapacity in such sectors as steel and coal mining, Xu Shaoshi, minister of the National Development and Reform Commission, said on Sunday.
The Chinese economy has become more resilient and is able to create more jobs to absorb laid-off workers, Xu said at a news conference on the sidelines of two sessions, the annual meetings of legislators and policy advisers.
"We will strengthen our efforts to reduce overcapacity," he said, citing Hebei and Heilongjiang provinces as areas that "have maintained social stability while pushing corporate restructuring".
The steel sector will reduce capacity by 100 to 150 million metric tons in five years, and the coal mining sector will cut capacity by 500 million tons, with another 500 million tons to be restructured in three to five years, he said.
Researchers estimate that about 3 million workers could be laid off in the coming two to three years if current capacity is reduced by 30 percent in targeted sectors such as steel, coal mining and cement.
Xu said there will not be a second round of massive layoffs this time.
China's State-owned enterprise restructuring in the 1990s put tens of millions out of work.
Given the country's massive economic scale, it has become more capable of creating jobs, which will help absorb unemployed workers, he said. The improved economic structure will also help absorb redundant workers, he said, with tertiary industries having a larger share of the economy. Tertiary industries-the segment of the economy that provides services to consumers, such as financial institutions, schools and restaurants-generally accommodate more jobs.
Moreover, as new enterprises crop up thanks to China's favorable policies encouraging business startups, there will be more new jobs, and easier cross-regional labor flows and the use of online job fairs will help laid-off workers find work, he said.
The Ministry of Human Resources and Social Security said 100 billion yuan ($15.3 billion) will be allocated to cushion the effect of job losses on families and society.
Xu said China's reduction of overcapacity will help countries involved in the Belt and Road Initiative. Some of them are industrializing and urbanizing, and they need to build more infrastructure and upgrade industrial structures. That's where Chinese enterprises can help, he said.