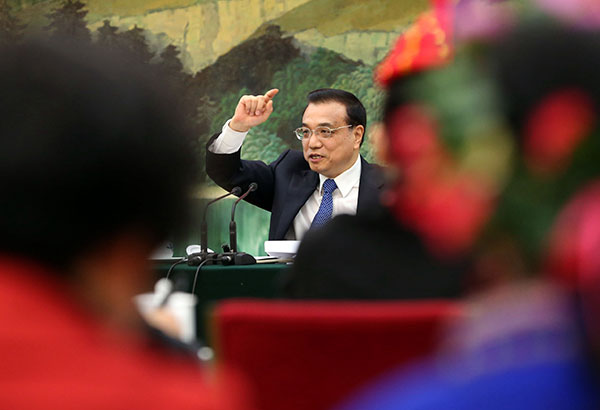 Premier Li Keqiang joins a panel discussion with deputies from Fujian province at the annual session of the National People's Congress in Beijing on Monday. WU ZHIYI/CHINA DAILY
The central government will continue to promote peace and development on both sides of the Taiwan Straits by launching more pilot reform programs in Fujian province, Premier Li Keqiang said on Monday.
Li praised the province, located on the western side of the Straits, for becoming one of the fastest-growing by taking advantage of its Free Trade Zone targeted mainly at enterprises from Taiwan.
He made the comments at a meeting with deputies from Fujian to the annual session of the National People's Congress.
The China (Fujian) Pilot Free Trade Zone was set up by the central government in December 2014, and is located in Pingtan, Xiamen and Fuzhou.
Li encouraged the zone to serve as a testing ground for more open reform policies and practices, and to attract more overseas entities through business cooperation and cultural exchanges.
He said he was pleased to learn that the zone had not only attracted businesses but also services and residents from across the Straits.
Li said Fujian should use the zone as a strategic anchor to develop its coastal businesses and environmental protection, and to contribute more to the country's economic transition.
Fujian was one of the provinces that made the fastest economic progress last year. Its GDP growth rate reached 9 percent, while the national average fell to just 6.9 percent due to deepening economic restructuring aimed at shrugging off overcapacity and industrial upgrading.
A province with hardly any industry 40 years ago, Fujian's economy was worth 2.6 trillion yuan ($400 billion) last year, larger than that of Shanghai and nearly the size of Thailand's GDP in 2014.
This year, the provincial government is aiming for a GDP growth rate of 8.5 percent.
Fujian's foreign trade dropped by 0.8 percent year-on-year in January, when the national total declined by 10 percent.
Hu Gang, head of the Guangdong South China Economic Research Institute, said Fujian should seize its opportunity, as he feels the government is providing it with good policy support, such as setting up free trade zones.
Chen Bo, secretary of the Free Trade Zone Research Institute at Shanghai University of Finance and Economics, said Fujian had performed well in foreign trade because it had a good opening-up policy.