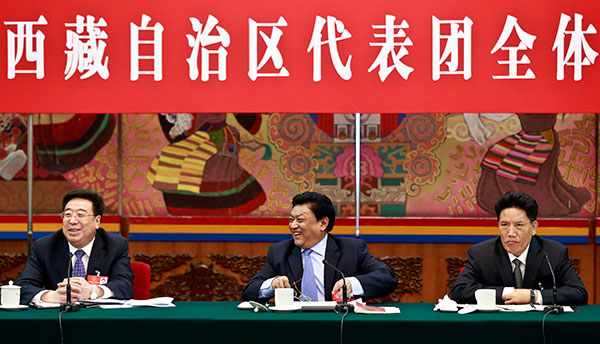 Padma Choling, head of the Standing Committee of the Tibet People's Congress (middle), Losang Jamcan, chairman of the autonomous region (right) and Wu Yingjie, deputy Party chief of the region, attend a panel discussion on Monday. FENG YONGBIN/CHINA DAILY
In a bid to attract more tourists and become one of the world's top destinations during the next five years, the Tibet autonomous region would like to shorten the time it takes to issue travel permits to foreigners.
Currently, foreign travelers need Tibet travel permits to tour the region, in addition to a Chinese visa. This extra requirement is based on Tibet's unique ethnic traditions, cultural heritage, reception capacity and ecological protection needs. Without the permits, which must be applied for through an authorized travel agency, foreigners can't board a flight or train to Tibet.
"Tibet will be more open to domestic and foreign tourists in the next five years. We will simplify the procedure for foreigners to obtain travel permits and cut the waiting time," said Hong Wei, deputy director of the Tibet tourism development commission and a deputy in the Tibet delegation to the National People's Congress. Hong spoke during a group discussion at the NPC's annual session.
The reform of travel permits is still being studied and there are no hard details at the moment, an official with Tibet's publicity department said on Monday.
Padma Choling, head of the standing committee of the regional people's congress, said at the session that Tibet has no plans to completely abolish permits for foreign travelers because its natural environment is complicated and the purpose of the permits is mainly to ensure the safety of the travelers.
"It takes at least 15 days for foreigners to receive their permits after submitting all the documents if they are not refused entry. I hope it can be cut to less than a week in the future," said Xu Bin, manager of a travel agency based in Lhasa, the capital of Tibet. He said he has received many inquiries from foreigners during the past eight years who were very interested in visiting Tibet.
Li Yiqiang, deputy director of Shannan prefecture, said the number of foreigners visiting the prefecture in 2015 increased by more than 30 percent over the previous year. "Allowing more foreign visitors to come to Tibet can help the locals out of poverty by getting them involved in providing tourism services," he said.