Li tells deputies that GDP will not be pursued single-mindedly ring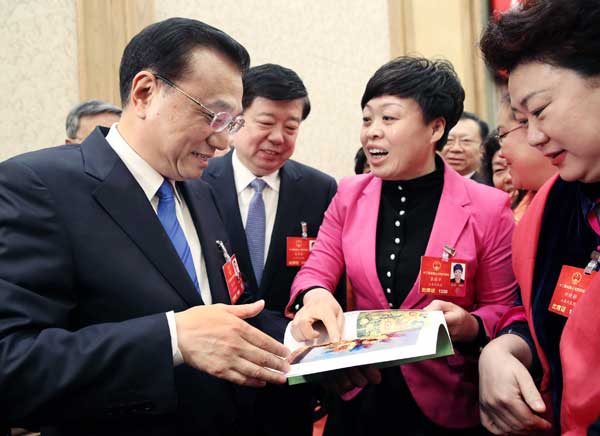 Premier Li Keqiang talks with Yuan Jinghua, head of a special education school in Shandong province and a NPC deputy, after attending a panel discussion with deputies from the province on Sunday. Yuan presented Li with an album of paintings by her pupils. Wu Zhiyi / China Daily
China will not abandon its ambitions for growth, although it will not pursue GDP single-mindedly, Premier Li Keqiang told lawmakers at the National People's Congress on Sunday.
Li joined a panel discussion of deputies from Shandong, one of the country's three most powerful and diverse provincial economies.
The province reported GDP of 6.3 trillion yuan ($966 billion) last year, nearly one-10th of national GDP. The other two key provincial-level powerhouses are Guangdong and Jiangsu.
The premier praised Shan-dong for setting its growth target this year at between 7.5 and 8 percent, one percentage point higher than the national target range.
He hailed Shandong for its "courage" in playing a more important role in leading economic growth among provinces in northern China. Some of these provinces, plagued by a lack of diversity and by overcapacity in uncompetitive manufacturing, are facing a tough task in catching up with the rest of the nation.
"It will be hard to keep enough jobs and protect people's livelihoods without adequate and reasonable economic growth," Li said.
With some provinces having a hard time in meeting the nation's average target growth range, Shandong should be playing a pioneering role.
It was the fourth time that Li, who is also an NPC deputy for Shandong, had sat down with representatives from the province's NPC delegation since 2013.
Ouyang Hui, an economic specialist at a research institute affiliated to the National Development and Reform Commission, said, "I think the central government considered (the issue) thoroughly when setting the national economic development target range at between 6.5 and 7 percent for 2016.
"Some provinces in western and northern China will face ... comparatively heavy pressure in their economic transitions because they have depended on certain local resources for too long, such as coal mining and steel making.
"It may be hard for them to meet the nation's average growth target in the coming year," he said.
"As a result, provinces such as Shandong, which have been making faster progress, can share more of the nation's growth burden."
Shandong's growth target range for this year was set in January by the provincial people's congress, after it achieved year-on-year GDP growth of 8 percent last year, compared with national GDP growth of 6.9 percent.
Regions south of the Yellow River have experienced better momentum and performances in nurturing new industries, while regions north of the river are not doing so well in this respect.
Li said he hopes that Shandong can set a good example for other provinces in the north in nurturing new economic driving forces.