The annual meetings - NPC (National People's Congress) and CPPCC (China People's Consultative Conference) - have placed China in the world's headlines yet again. Expert observers are searching for clues on how Beijing would craft its first year development for the 13th five-year plan.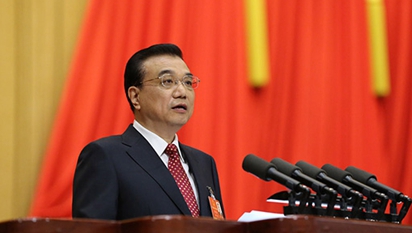 The government's work report, which was presented by Chinese Premier Li Keqiang on March 5, has outlined guidelines for this year governments' work, and providing bonuses for China and world's long-term development. China's top leaders have a clear and objective understanding of the nation's current situation.
Beijing has acknowledged that "downward pressure on the economy is growing," but the central government has a strong will to stabilize the national economy. Considering the economic volume of China's economy, fighting against wider domestic market fluctuations can reduce risks for China and the world economy.
Premier Li reiterated that Beijing would move forward on domestic reforms and continue to open up. The nation will not give up on long-term structural reforms just for a short-term stimulus.
China's top leaders' remain determined to pursue further reforms, responding directly to some political observers and investors' concerns over Beijing's true stance on reform.
Li lowered the annual gross domestic product (GDP) target from 6.5 to 7 percent for 2016 from 7 percent last year, which strikes a balance between long-term reforms and meeting Chinese people expectations for higher standards of living.
According to Li's work report, the key step for striking a balance is for Supply-side Reform, which includes improving the quality of supply, reducing overcapacity due to so-called "zombie" industries, shrinking bloated industries from steel to cement to aluminum in which supply exceeds demand, an awaited shake-up of state-owned enterprises (SOEs), removing administrative controls and encouraging innovation.
China's steel production has amounted to more than double the combined production of Japan, India, US and Russia, which are the four next highest-ranking producers in the world. Steel overcapacity has gotten untethered from real market demand.
Considering that SOEs currently accounts for roughly one-quarter of 2015 industrial revenues, but only yielded one-sixth of industrial profits, reforms on SOEs are deemed as the deep water zone of reforms in order to boost their efficiency.
As part of sweeping reforms, Beijing has pledged to press ahead with market-oriented reforms that will include opening up the telecoms, petroleum and public utilities industries.
Generous budget allocations for laid-off workers' compensation signal that stepping up on structural adjustments targeted for SOEs are for real.
Li announced a bigger fiscal deficit target, pursuing a more proactive fiscal policy with a deficit of 2.18 trillion yuan ($335.38 billion), 560 billion more than that of last year and accounting for 3 percent of GDP, which indicates Beijing is trying to create a strong social welfare network to cushion negative impact.
But in regards to propping up faltering state firms, the Chinese government does not intend to continue making all out efforts to rescue them.
In pushing a shift of China's economy toward entrepreneur-driven model from investment and smokestack industries driven model, Li promised that Beijing would channel funds to support infrastructure and tax deductions for small and medium sized enterprises (SMEs), especially for research organizations, universities and setting up hatching centers for startups.
Li's government work report offers bonuses for China and the world's long-term development. We should stay objective and support China's endeavor to pursue further reforms.
The real risk lies in China's giving up its effort to transform its growth model, feeling thwarted by difficulties and pressures. That's what we really need to worry about.
The author is Yu Xiang, Ph.D, Harvard University Visiting Scholar, Research Fellow and Director of Division of American Economic Studies at the Institute of American Studies, China Institutes of Contemporary International Relations(CICIR).