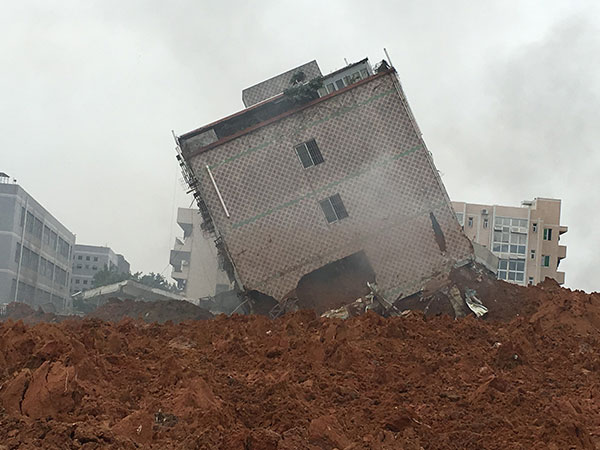 A landslide hit an industrial park in Shenzhen city in South China's Guangdong province Sunday morning, crushing several buildings. [Photo/IC]
SHENZHEN - A total of 91 people went missing after a landslide buried 33 buildings in an industrial park in Shenzhen city of South China's Guangdong province on Sunday, according to local authorities.
By 9 am Monday, 91 people remained missing, CCTV cited officials from the rescue headquarters as saying.
According to the official Weibo account of Ministry of Land and Resources, the landslide occured not due to natural causes but due to accumulation of huge pile of soil. The collapse happened at a dump site, which was used to pile up the soil and construction wastes. When the pile overloaded, it triggered the collapse of the building. Sina Weibo is China's Twitter-like social networking site. 
The landslide also caused the leakage of a nearby section of the West-East natural gas pipeline. The gas company has launched an emergency response, the gas in the damaged pipeline has been expelled and no explosion has happened, chinayouth.cn reported.
The missing include 59 male and 32 female.
Three people were injured in the disaster, according to officials from the rescue headquarters.
The headquarters said they have detected signs of life at three separate locations of the site.
Rescuers are battling unfavorable geological conditions to save those trapped under mud, after the landslide struck the Hengtaiyu industrial park at around 11:40 a.m., leaving more than 100,000 square meters of debris at the site.
The park is located in the Guangming New District in northwestern Shenzhen. A nearby section of the West-to-East natural gas pipeline exploded as the landslide hit the area.
"The site is quite narrow and is located on a ramp, so it is very difficult for vehicles to enter," said Ao Zhuoqian with Shenzhen's fire control department. "We have to go there on foot."
Rescue efforts are currently hampered by a spate of obstacles, including rain, low nighttime visibility and the large amount of mud, Ao said.