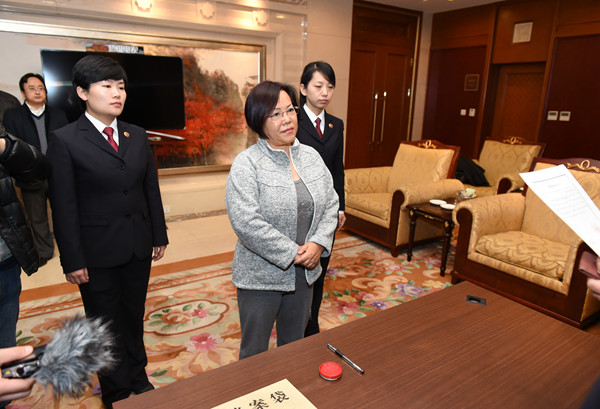 Huang was brought home on Saturday from the US after she surrendered herself to the police. [Photo/ccdi.gov.cn]
BEIJING - One of China's most-wanted fugitives suspected of bribery was brought home on Saturday from the US where she had fled in 2002, following cooperation between the two countries' law enforcement departments.
Huang Yurong, 64, former party chief of Henan Provincial Highway Administration, surrendered herself to the police and returned voluntarily after being persuaded by Chinese authorities, according to a statement released by the Communist Party of China (CPC) Central Commission for Discipline Inspection (CCDI).
Law enforcement officials from China and the US collaborated on the investigation into Huang starting from the end of 2014, it added.
China launched a "Sky Net" campaign in April to bring back 100 suspects who are accused of economic crimes and have fled overseas.
After years of fleeing, Huang believes that her choice of returning to China is right, promising to cooperate with the judicial departments in her case, said the statement.
The anti-graft authority urged fugitives abroad to give themselves up to the police as soon as possible, vowing a strong resolve to fight against corruption in the next year.