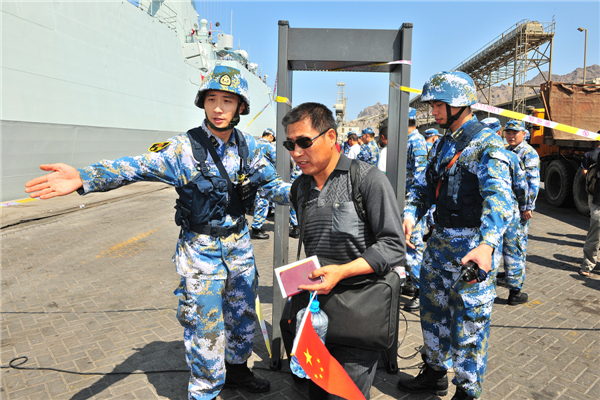 The 19th Escort Fleet of the Chinese Navy evacuated 122 Chinese nationals, including seven women and one child, after arriving in the Gulf of Aden in Yemen, on Sunday. [Photo by Xiong Libing/Asianewsphoto]
Four hundred and forty-nine Chinese nationals left the Yemeni coastal city of Al-Hodayda on Monday aboard a Chinese navy frigate.
Six people of other nationalities were also on board Weifang, which is heading for Djibouti.
On Sunday, 122 other Chinese nationals were evacuated from the Yemeni city of Aden and have already arrived in Djibouti.
The ongoing Yemen crisis has triggered concerns from the international community as more countries evacuated their nationals from the conflict-torn nation.
"Up to now, 122 Chinese citizens have been evacuated safely from Yemen to Djibouti, and the Chinese embassy in Djibouti is energetically assisting them for an early return to the motherland," Foreign Ministry spokeswoman Hua Chunying said in a daily news conference in Beijing.
The evacuation was made under the emergency-response coordinating efforts of the Foreign Ministry, the Ministry of National Defense and the Chinese embassies and consulates in Yemen, Aden and Djibouti, she said.
The Chinese embassy in Sanaa remains open and will continue to assist a small number of Chinese nationals who choose to stay in Yemen.
The Ministry of National Defense announced on its website earlier Monday that a People's Liberation Army navy fleet, which had been undertaking an escort mission in the Gulf of Aden and Somali waters left for Yemen on Sunday for the evacuation mission in accordance with an overall deployment.
The Chinese naval fleet left on Dec 2 to conduct escort missions in the Gulf of Aden and Somali waters. The fleet is made up of missile frigates Linyi and Weifang, and the supply ship Weishanhu, which has two helicopters and more than 700 troops.
It was the first time the navy fleet has suspended escort missions since China started the mission in December 2008.