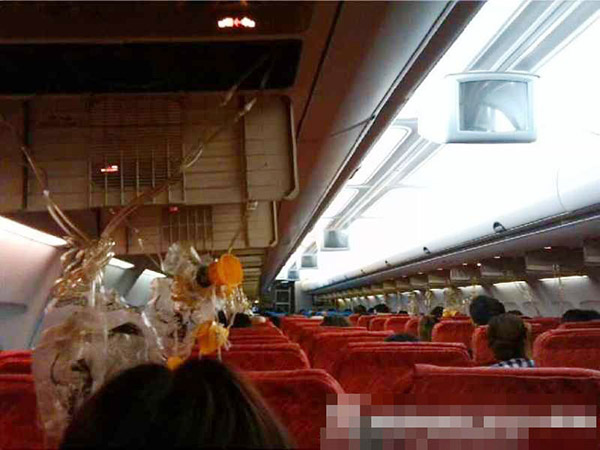 A photo shows the inside of Orient Thai flight OX682 which made a forced landing in Kunming, Southwest China's Yunnan province, on its way from Phuket Island to Chengdu, March 28, 2015. This photo was posted on Wechat by a person who claimed to be on board the plane.
Orient Thai airlines flight OX682 was forced to land in an airport in Kunming, Yunnan province on its way from Phuket Island to Chengdu, Sichuan province at 12:03 am on Saturday. The reason is unclear, Western China Metropolis Daily reported on Saturday.
The plane was scheduled to take off on 2:40 pm from Kunming to Chengdu on Saturday but was delayed. According to a staff member from the airport, the flight was supposed to fly from Phuket Island directly to Chengdu and the reason why it land in Kunming is still not clear.
According to the newspaper, a passenger on the plane said the forced landing is because one of the engines was broken. Many passengers on the plane suffered symptoms such as ear congestion, nose bleeding or fainting.
Many passengers transferred to another flight to continue the trip to Chengdu while doctors advised some to avoid more flying based on their medical conditions.
The airline has sent plane to carry on the incomplete journey to Chengdu. Compensation has not been discussed.