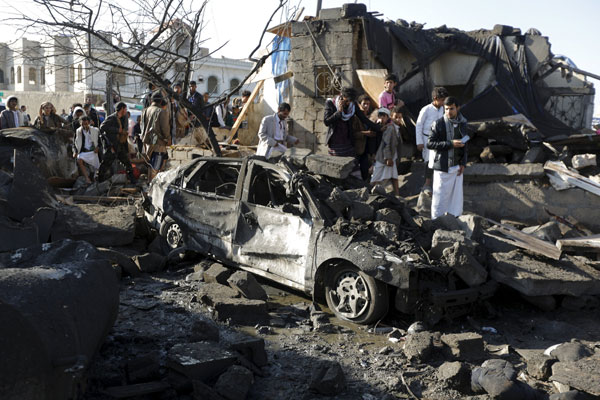 People gather at the site of an air strike at a residential area near Sanaa Airport March 26, 2015.[Photo/Agencies]
TEHRAN - Iran on Thursday condemned Saudi-led air strikes on Yemen, urging an immediate end to the military strikes against the country, Press TV reported.
Describing the move as an aggression, Iranian Foreign Ministry spokesman Marzieh Afkham said launching military strikes against Yemen would complicate the crisis in the country and kill opportunities for peaceful resolution to the crisis in the Arab country.
Afkham warned that "the Saudi-led invasion of Yemen would lead to spread of terrorism and extremism in the region," Press TV said.
The Saudi ambassador to Washington announced on Wednesday that his country and its Gulf allies launched airstrikes on the Houthi rebels in Yemen.
Saudi Arabia, the United Arab Emirates, Kuwait, Bahrain and Qatar said on Thursday they had decided to act to protect Yemen against "aggression" by the Houhti militia, according to a joint statement.
Warplanes raided military camps belonging to the Shiite Houthi group in Yemen's capital Sanaa on Thursday, killing four civilians,
a Yemeni defense ministry official told Xinhua.
The warplanes struck the al-Dailamy air force base in northern Sanaa and destroyed the runway, which is adjacent to the civil airport, the official said on condition of anonymity.
The strikes also targeted weapons depots at a missile base in the southern part of Sanaa, which is controlled by the army loyal to former President Ali Abdullah Saleh.
The official said four civilians were killed in the air strike on the air force base. However, the Houthi-run al-Maseera TV reported that dozens of people were killed overnight, without giving further details.