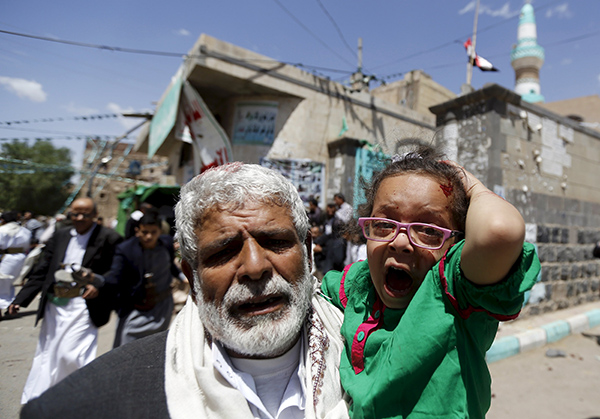 An injured girl reacts as she is carried by a man out of a mosque which was attacked by a suicide bomber in Sanaa March 20, 2015. [Photo/Agencies]
SANAA - A total of 88 people were killed and at least 100 others wounded on Friday in four bombing attacks in Yemen, local sources told Xinhua.
Two suicide bombers attacked two mosques in the capital of Sanaa during Friday prayers, killing at least 55 people, while at least 33 others were killed in two bombing attacks against a government building and a mosque in the Shiite Houthi stronghold of Saada province.
In Sanaa, the bombers detonated explosives at two mosques controlled by the Shiite Houthi group, a security official said on condition of anonymity, adding that most of the dead were supporters of the Houthi group.
The first attack hit prayers at Badr mosque in southeastern Sanaa, killing 35 people, while the second bombing occurred at Hashoush mosque in northeastern areas, killing at least 20 others, he said.
This is the second bombing attack in Sanaa this year after an al-Qaida car bombing attack against the police academy killed at least 50 cadets on Jan. 7.
In Saada province, at least 15 Houthi fighters were killed on Friday noon when a bombing attack hit a government building in Saada city, the provincial capital of Saada province in northern Yemen, a Houthi source told Xinhua.
Meanwhile, at least 18 people, most of them Houthi followers, were killed during Friday prayers when a suicide bomber blew himself up at a mosque in Saada city, he added.
Dozens of people were wounded in the two separate attacks, the source added.
The Shiite Houthi group took over control of Sanaa in last September and met strong resistance in the central and southern regions by powerful Sunni tribes and Sunni-dominated al-Qaida network.
On Thursday, tribal militia fought against security forces supported by the Houthi group in the southern port city of Aden, the second biggest city in the country, killing at least 15 people.