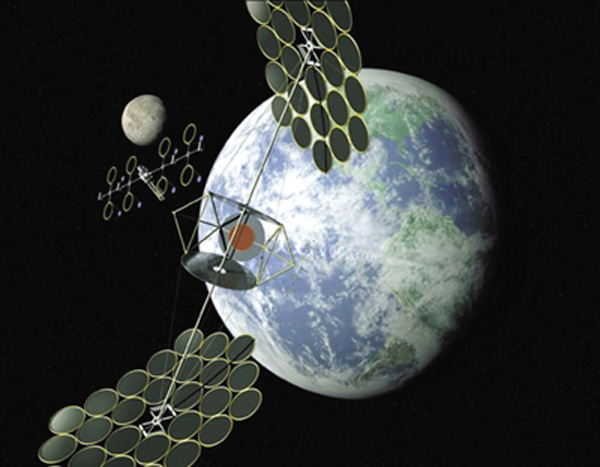 A computer generated picture of a solar power station in space to be built by a US company. [Photo/Xinhua]
The battle to dispel smog, cut greenhouse gases and solve the energy crisis is moving to space.
Chinese scientists are mulling the construction of a solar power station 36,000 kilometers above ground.
If realized, it will surpass the scale of the Apollo project and the International Space Station, and be the largest-ever space project.
The power station would be a super spacecraft on a geosynchronous orbit equipped with huge solar panels. The electricity generated would be converted to microwaves or lasers and transmitted to a collector on Earth.
In 1941, US science fiction writer Isaac Asimov published the short story "Reason", in which a space station transmits energy collected from the sun to various planets using microwave beams.
Wang Xiji, an academician of the Chinese Academy of Sciences (CAS) and a member of the International Academy of Astronautics, says Asimov's fiction has a scientific basis.
US scientist Peter Glaser published an article in the journal Science in 1968, claiming a feasible design for the space solar power system.
After devoting more than half a century to space technology research, Wang, 93, is an advocate for the station: "An economically viable space power station would be really huge, with the total area of the solar panels reaching 5 to 6 square kilometers."
That's equivalent to 12 of Beijing's Tian'anmen Square, the largest public square in the world, or nearly two New York Central Parks.
"Maybe people on Earth could see it in the sky at night, like a star," says Wang.
Researchers in many countries have drawn dozens of designs, with square, round and bowl-shaped stations.