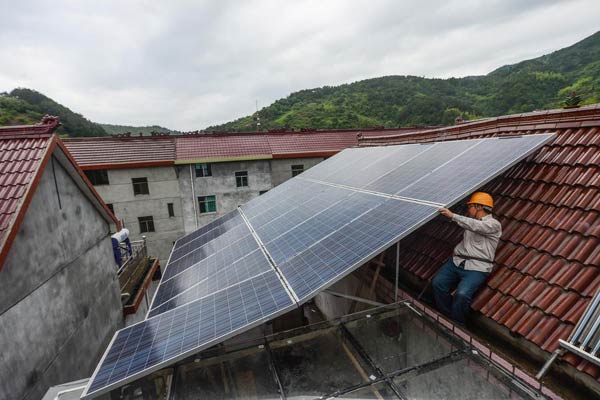 An employee with the State Grid Lanxi Power Supply Company inspects solar panels in Gangxialing village, Lanxi, East China's Zhejiang province, May 14, 2014. [Photo/Xinhua]
New policy to encourage distributed power generation projects on cards
The distributed solar generation industry is getting a big boost in China, where a new solar policy is expected to be announced later this month to encourage households and small businesses to install distributed solar projects, industry insiders said.
Distributed generation refers to scattered solar plants close to where it is used, rather than being produced by large power plants.
But China has a low installation rate with regard to distributed solar power due to difficulties with cost and connecting to the grid.
Although a policy to push distributed solar generation has been around for a while, the new plan gives more detailed support to enable easier grid connection, the sources said.
"We have not received any formal document yet, but the government's push for distributed solar projects is a certain thing," said Wang Zhixin, spokesman for Yingli Group, one of China's largest solar companies based in Baoding, in Hebei province.
"I think the new policy will help release more market capacity and benefit under-loaded projects with abundant solar energy resources," Wang said.
Earlier this month, Wu Xinxiong, head of the National Energy Administration, told a meeting with solar companies in Zhejiang province that the country will encourage solar projects to be built on barren hills and abandoned land, lakes, fishponds, greenhouses and other resources.
For projects with a capacity of no more than 20,000 kilowatts and under the scale of 35 kilovolts connected to the grid, Wu said they can enjoy the local benchmark price for photovoltaic electricity, which varies from different provinces. The national benchmark price for PV electricity is 0.9 yuan (14 cents), 0.95 yuan and 1 yuan per kilowatt hour, depending on the solar power resources, according to the National Development and Reform Commission.
At the same time, more support will be given to installations of solar panels in public infrastructure such as hospitals, schools, railway stations and airports.
The government will encourage low-cost financing for distributed projects and encourage the forming of PV industry investment funds among insurance companies and trusts.
Electricity generated by distributed PV plants now accounts for less than 1 percent of China's total PV generation, compared with some 70 percent in Germany and 80 percent in the United States.
"It will be a good move, but it takes a long time to execute, due to restrictions on the ownership of rooftop connection to the grid, so whether it will pay off is still uncertain," said Li Junfeng, head of the China Renewable Energy Industry Association, which is under the National Development and Reform Commission.
China has set targets for installed solar capacity for this year. The overall target is 14 gW of solar capacity, with 6 gW in utility-scale facilities and 8 gW of distributed generation.