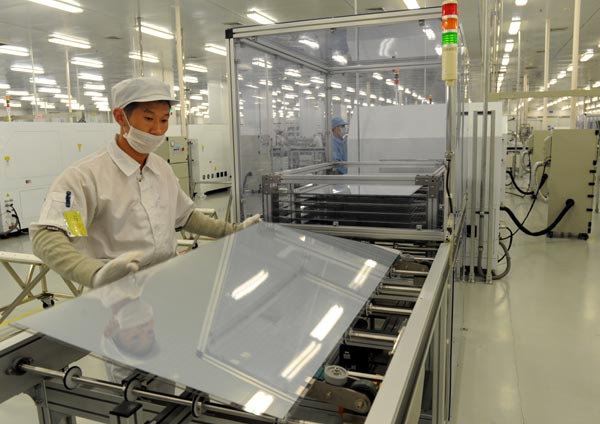 A workshop of Hanergy Holding Group Ltd in Dezhou, Shandong province. The privately held renewables company acquired Alta Devices Inc, a California-based developer of high-efficiency thin-film solar cells. [Photo/China Daily]
Privately held renewables company Hanergy Holding Group Ltd, headquartered in Beijing, announced on Wednesday that it had acquired Alta Devices Inc, a California-based developer of high-efficiency thin-film solar cells.
It is the fourth acquisition by Hanergy in the past two years, which shows the company's determination to bring the latest technology into production, said Li Hejun, chief executive of Hanergy, without disclosing the value of the deal.
Hanergy reportedly bought all of Alta to strengthen its position in China's solar technology market, and to bring its thin-film solar technology to other sectors in addition to solar power stations.
Alta Devices' Chief Executive Officer Chris Norris said their advanced solar technology can be used in unmanned systems, consumer devices, remote power, automotive industry and the Internet of Things. However, they need a company like Hanergy, with a broad global presence, to help them bring their technology from the laboratory into the factory.
"By cooperating with Hanergy, we can broaden our niche market and shift our focus to a wider range," he said.
According to Li, Hanergy is investing in a factory for Alta Devices in the United States, which is scheduled to start operations in May 2015.
Even though cells from Alta Devices have a conversion rate as high as 30.8 percent of light received into electricity, its cost is high. Li said it will take time to cut costs, but the huge potential market will make it worthwhile.
The new acquisition comes a year after Hanergy bought Arizona-based Global Solar Energy Inc, Silicon Valley startup MiaSole and Germany's Q Cells AG.
China's solar industry boom has attracted many foreign companies. DuPont Teijin Films, a joint venture between US chemical giant DuPont and Teijin, produces polyester film in China. The film is a basic material for solar panel manufacturing.
John Miller, president of DuPont Teijin Films Europe, said the company provides a cost-effective solution for many applications, which helped its Chinese partnership build its clientele in China.
The company, with sites in Europe, the US, Japan, China and Indonesia, has a global volume of approximately 250,000 metric tons with an overall turnover of $1.5 billion.
'Bird nest' signs deal
The National Stadium, more commonly known as the Bird's Nest and the main venue for the 2008 Beijing Olympic Games, on Wednesday signed a five-year strategic cooperation agreement with Hanergy Holding Group.
Wu Jingjun, general manager of the stadium, said the venue has embarked on a major branding operation and has already got expressions of interest from several leading companies.
"Naming rights for some stalls within the stadium is already underway," he said. "A good number of companies have cooperated with the stadium in various forms and Hanergy become the strategic partner due to its green concept for development."
Wu said the stadium is open to all kinds of cooperation from both domestic and foreign companies, especially if they share the same vision that the stadium has.
Li Hejun, chairman of Hanergy, said the company will use its advanced solar technology to upgrade equipment in the stadium to make it greener and cleaner.
Set up in 1994, Hanergy initially worked on hydropower plants. The company later moved on to thin-film solar panel manufacturing and solar power plants.