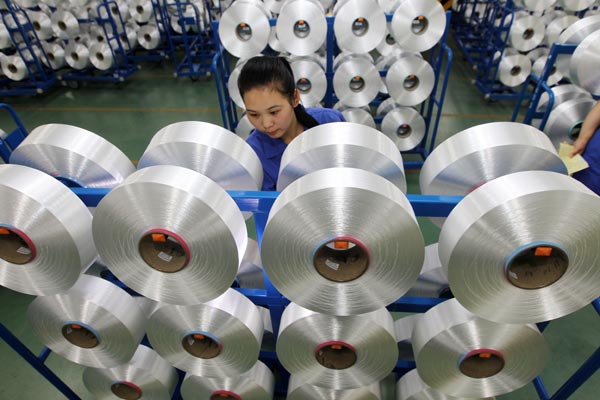 A worker inspects rolls of polyester fiber at a factory in Nantong, Jiangsu province. [Photo/China Daily]

Recovery momentum in June failed to carry over into July, as shown by China's softening data in industrial output, investment and retail sales, which underscored the fragility of the economy's exogenous momentum.
Except for industrial output growth, which met market expectations, all other key data fell short, despite the government's introduction of stimulus measures in May.
Institutions are slightly divergent in their analysis of the slowdown, with some suggesting not to "read too much" into a monthly fluctuation, while others argue the upsurge in June may mark an end to the rebound.
Li Huiyong, chief economist with Shenyin & Wanguo Securities, said although the industrial output growth has slowed by 0.2 percentage point from June to 9 percent, the increase was still higher than the 8.9 percent average rise in the April-June period, and was the second highest point this year.
"Investment and consumption slowed from June but still kept an overall decent shape. Signs are apparent that the economy is stabilizing," Li said.
But other institutions voiced a pessimistic outlook. Analysts with Haitong Securities even said the economic rebound is already over.
"Overcapacity and deleveraging in the corporate sector depressed the manufacturing investment. ... The economy became languid after a roaring second quarter. The rebound may be over and the growth will continue to ease in August," Jiang Chao and Gao Yuan from Haitong wrote in a note.
Fixed-asset investment, an important driver of economic activity, grew 17 percent in the first seven months from the same period last year, compared with a 17.3 percent rise in the first six months.
Retail sales, a key indicator of domestic consumption, rose 12.2 percent in July from a year earlier, slowing from June's 12.4 percent.
The weakening data were accompanied by a record low of new credit growth in July. The amount of new yuan loans dropped to the lowest level since 2010, adding to worries about the outlook.
"All growth data are in the downward trend, so you can't say the economy has stabilized. It only showed that the economy still faced mounting downward pressure," said Zhou Jingtong, a macroeconomic researcher with Bank of China.
"If growth maintained the same pace in August and September, China's GDP growth in the third quarter could not reach 7.5 percent, the official target."