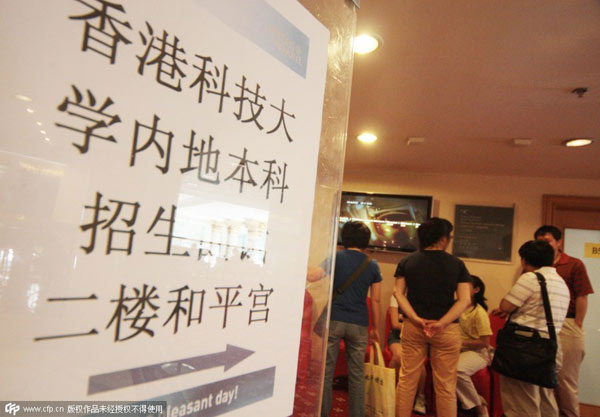 The photo shows people waiting outside the interview room of Hong Kong University of Science and Technology in Beijing, 2009, June 28. [Photo/CFP]
It's been reported that the number of applicants for Hong Kong universities from the Chinese mainland is in decline despite the expanded quota. Some universities have seen a yearly drop of 12 percent.
The rising tuition fees and living costs is a factor that has led to many Chinese mainland students hesitate before applying for Hong Kong universities. It will cost around 13,000 yuan or over $2,000 a year on average to study at a Hong Kong university. Only around 25 percent of Chinese mainland applicants can get a partial scholarship and a tiny fraction can get a full scholarship.
Furthermore, if choosing to study in Hong Kong, students will have to accept English as a teaching language and use Cantonese in daily communication. There is also a new teaching style for them to adjust to in their new home.
Rather than pursuing Hong Kong universities for their high rankings, students should take all these factors into consideration before making the final decision.
Related: Hong Kong still popular with mainland students
Although the "Occupy Central" campaign seriously affected daily life in Hong Kong for more than two months, it has not dampened mainland students' enthusiasm to study in Hong Kong universities.
Xu Zijian, a college senior from Guangzhou, Guangdong province, is anxiously waiting for offers from Hong Kong universities.
The 22-year-old has applied to master's degree programs and hopes to start in September.
"Compared with master's programs on the mainland, Hong Kong's are more cost effective, and they take only one to one and a half years to complete. I can get out of school and join the workforce sooner," Xu said, adding that the study experience in Hong Kong may lead to more job opportunities, in both Hong Kong and on the mainland.
Xu is one of thousands of mainland students who have set their sights on Hong Kong universities.