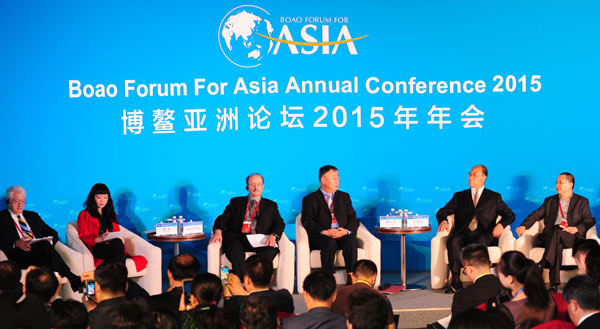 A discussion on smog and health was held in Boao on Friday. HUANG YIMING/CHINA DAILY
China's efforts to combat pollution and smog will last for more than a decade as coal and other fossil energy sources will continue to power the world's second-largest economy, experts said on Friday.
Adopting more clean energy sources to at least partially replace the fossil-dominated energy structure of the country over the next decades will be the key to eliminate the smog choking large parts of the country, said Qin Dahe, an academic with the Chinese Academy of Sciences and former director of the Chinese National Meteorological Administration.
"China burned 4.1 billion metric tons of coal last year, more than other leading economies such as the United States. The extremely large amount of chemicals emitted from coal burning and other meteorological factors have triggered the haze," Qin said.
"Improving air quality is not only the responsibility of the government. All the stakeholders must work together to curb excess emissions and stop the smog," Qin said, calling for closer cooperation among the government, enterprises and the public.
China stepped up its efforts to bring down carbon emissions four years ago after haze enveloped many cities such as Beijing, Tianjin and Shanghai. Last year, the government said the country's carbon dioxide emissions will reach its peak by 2030 and then will decline as more clean energies such as solar, wind and nuclear power will replace coal and oil.
The government is also trying to increase electric car sales in a bid to cut vehicle emissions.
Wan Bentai, chief engineer at the Ministry of Environmental Protection, said fighting air pollution is a "long-term struggle" for China because the immense amount of energy consumption makes it difficult for the country to adopt new energy sources.
Direct emissions, as well as physical and chemical reactions of the emissions in the air together, have triggered the smog. Emissions from the manufacturing sector and coal-burning processes contributed half of the direct emissions, Wan said.