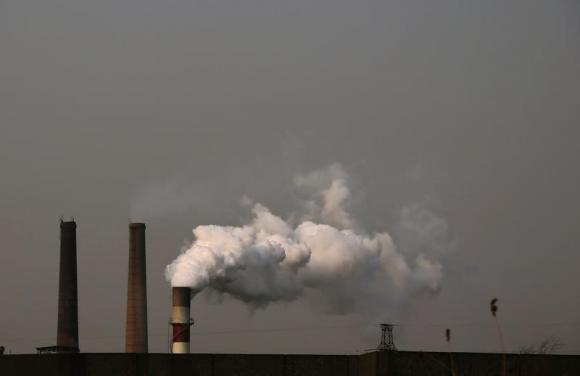 Smoke rises from a chimneys of a steel mill on a hazy day in Fengnan district of Tangshan, Hebei province February 18, 2014.[Photo/Agencies]
Six cities in Hebei province made the top 10 in the ranking of 74 major cities in terms of the severity of air pollution in February, with Baoding ranked first, the environment watchdog said on Tuesday.
The consumption of coal for heating and setting off fireworks during the Spring Festival holiday were the major reasons for the increased smog in the top 10 cities, all located in northern China, according to the monthly report released by the Ministry of Environmental Protection.
The 13 cities in the Beijing-Tianjin-Hebei region witnessed a deterioration in air quality due to the fireworks, and the windless weather meant the pollutants could not be dispersed quickly, the report said, adding that these cities failed to reach the national standard on 17 days during February.

But the report added that the majority of cities had seen a decline in the influence of fireworks on pollution compared to last year.
Along with the six cities in Hebei — Baoding, Xingtai, Hengshui, Shijiazhuang, Tangshan and Handan, the other four cities in the top 10 were Shenyang in Liaoning province, Urumqi in Xinjiang Uygur autonomous region, Harbin in Heilongjiang province and Zhengzhou in Henan province.
The notoriously-polluted Beijing-Tianjin-Hebei region reported 39.9 percent of days with air quality that met the national standard for clear air.

In response to grave situation, polluters in the region will come under stricter supervision this month.
The ministry will send 10 teams to monitor the emissions in key areas of the trilateral zone. The teams will go directly to companies in polluting industries and make random checks. Use will also be made of data from remote sensing satellites and unmanned drones.
Those companies found making illegal emissions will face tougher punishments in a bid to deter all polluters, the ministry said.
Chinese Premier Li Keqiang said Sunday China will tackle air pollution with tough punishments that will make the costs for those behind illegal production and emission "too high to bear".
Major cities are set to have improved air quality and great reduction in PM2.5-particulate matter with a diameter smaller than 2.5 microns that can penetrate the lungs and harm health-by 2017.
Hebei, which neighbors Beijing and the northern port city of Tianjin, is often blamed for the notorious choking smog that often seeps into neighboring regions due to its heavy industry.
The province is taking steps toward limiting the excessive number of iron and steel, glass, and concrete factories to reduce pollution. In 2014, Hebei cut coal consumption by 15 million tons, the first time that coal consumption in the province dropped year on year.