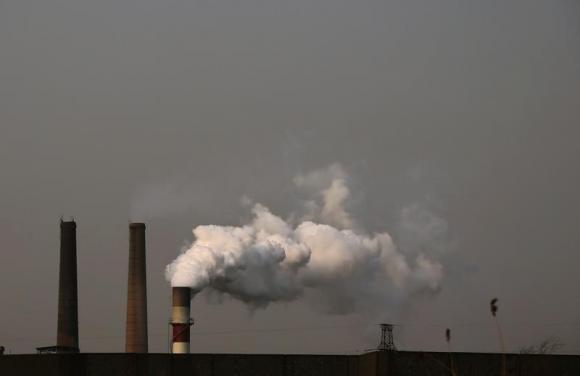 Smoke rises from a chimneys of a steel mill on a hazy day in Fengnan district of Tangshan, Hebei province February 18, 2014.[Photo/Agencies]
China's biggest steel-producing region, Hebei, is paying "a huge price" for the country's war on pollution, the province's top Communist Party official said on Monday, days after the central government offered more financial support.
Hebei, which surrounds the capital Beijing, churns out nearly a quarter of Chinese steel output, but it is now bearing the brunt of a campaign aimed at easing the country's dependence on heavy and polluting industrial capacity.
Production fell 0.6 percent last year to 185.3 million tons, official data showed.
Annual economic growth in the province slipped to 6.5 percent last year, missing an 8 percent target, with steel demand hit by a nationwide slowdown as well as the campaign against pollution.
"In order to solve the problems of industrial restructuring and pollution, Hebei has made huge efforts and paid a huge price," Zhou Benshun, the province's Party secretary, told reporters on the sidelines of China's annual parliamentary session on Monday.
At a closed meeting with the Hebei delegation on Saturday, Premier Li Keqiang said the state needed to help the province in its efforts to wind down excessive steel production capacity.
"Hebei's easing of steel overcapacity needs state help and we need to offer some preferential policies in aspects such as financing," Li was quoted by state media as saying.
Hebei governor Zhang Qingwei also urged Beijing to provide long-term loans to his province to help cover the costs of cutting overcapacity.
Hebei comprises seven of China's 10 smoggiest cities, according to official 2014 air quality data.
It vowed to close 60 million tons of outdated and polluting crude steel capacity in the 2014-2017 period and met its target to shut 15 million tons last year. It also aims to cut coal consumption by 30 million tons over the same period.
However, Hebei has struggled to find alternative sources of economic growth and hopes a new state plan aimed at integrating the province's economy with the prosperous cities of Beijing and Tianjin will help reduce its reliance on steel and coal.
The plan, due to be released soon, aims to break down administrative barriers and improve transportation networks in the region. It will also involve the relocation of "non-essential" industries and government functions from Beijing to Hebei.