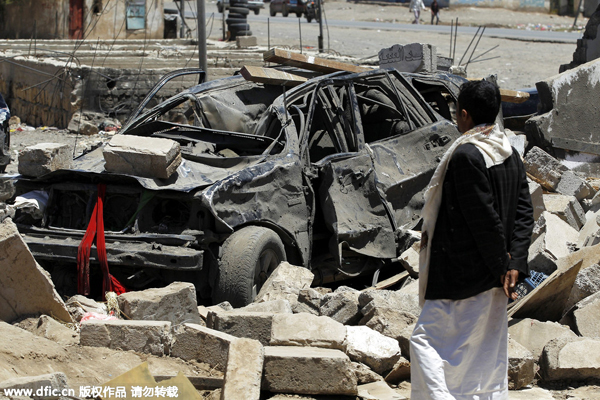 A Yemeni man stands beside his car which was destroyed by an airstrike in Sanaa, Yemen, March 29, 2015. [Photo/IC]
BEIJING -- The ongoing Yemen crisis has triggered concerns of the international community as more countries evacuated their nationals from the conflict-torn nation and Arab states agreed on the formation of a joint military force to counter growing security threats.
China has sent a naval fleet to help evacuate its nationals from Yemen as the situation continues to deteriorate, the Ministry of National Defense announced Monday.
The People's Liberation Army Navy fleet, which had been carrying out escort missions in the Gulf of Aden and Somali waters, was dispatched for the evacuation on Sunday, according to the ministry.
On Sunday night, a Pakistani plane moved 503 nationals out of Yemen.
Meanwhile, Indian Foreign Minister Sushma Swaraj said Sunday that evacuation would take place despite the bombing of the country's main international airport.
Saudi Arabia on Saturday evacuated 86 Arab and Western diplomats from Yemen, and the United Nations pulled its staff out of the country's capital Sanaa as well.
Yemen is currently suffering from political unrest and clashes between Houthi rebels and forces loyal to Yemeni President Abd-Rabbo Mansour Hadi, who has fled the country.
A Saudi-led coalition, which launched airstrikes on Houthi positions in Yemen as from Thursday, continued to rain bombs on key military targets on Sunday.
Military sources told Xinhua that the airstrikes targeted missile bases in al-Subaha area on Aser mountain in southwestern Sanaa, reserve forces camps on the mountains of Faj Attan, Aser, al-Sawad and Nokum, and the al-Dailamy air force base in northern Sanaa.