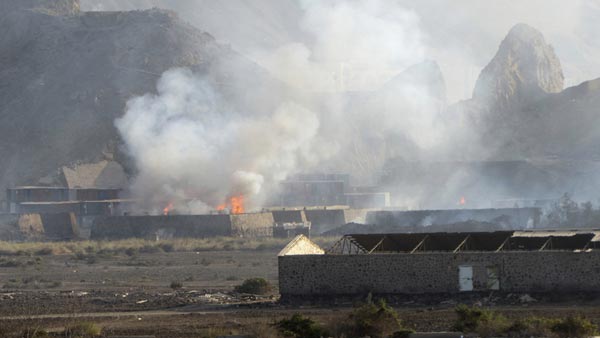 Buildings at the Jabal al-Hadid military camp burn as smoke rises in Aden, Yemen, March 28, 2015. Yemeni military officials said an explosion rocked the camp that houses a weapons depot and had been taken by security forces loyal to ousted leader Ali Abdullah Saleh, killing and wounding several people. [Photo/IC]
SANAA - Warplanes of Saudi-led Arab coalition forces raided Yemen's capital of Sanaa on Saturday, as the airstrikes against the Shiite Houthi group enters the fourth day.
Warplanes hit the camps of reserve forces loyal to former President Ali Abdullash Saleh in southern Sanaa and the air defense base in the Red Sea city of al-Hodayda.
There is no immediate report on casualties.
The airstrike hit several military targets in Sanaa and a reserve forces base in the central Dhamar province overnight Friday, which killed at least five soldiers in the capital, a security official told Xinhua.
Local media reported that dozens of soldiers were killed last night as the airstrikes hit the largest military base in the capital. However, the Houthi group refused to reveal the death toll.
Yemeni President Abd Rabbou Mansour Hadi urged on Saturday the Arab states to continue their military operation against the Shiite Houthi group until it is fully defeated.
Speaking at the 26th Arab League summit in Egypt's red sea resort city of Sharm El-Sheikh, Hadi urged the coalition forces, which have been pounding the Houthi group, to go on with their airstrikes until the rebels' surrender and defeat.
Saudi Arabia and fellow Gulf Cooperation Council member states launched airstrikes on Houthi positions in Yemen on Thursday, a move condemned by Iran but supported by the United States, Egypt, Jordan, and Morocco.
On the same day, Saudi Arabia's King Salman bin Abdulaziz Al-Saud said the Saudi-led military airstrikes against the Houthis in Yemen will continue until security is restored in the country, at the Arab summit.
"The Decisive Storm Operation will continue until the Yemeni people enjoy security and stability," the Saudi king told the Arab Summit presided by Egypt's President Abdel-Fattah al-Sisi and attended by 20 Arab monarchs and presidents.
In the country's southern port city of Aden, which is Hadi's last stronghold before he went to Saudi Arabia on Thursday, pro-Hadi tribal militia have been fighting against the Houthi fighters for about three weeks.
The city has been simmering with tensions and armed confrontations for over three weeks with various chaos and looting acts that targeted government institutions.
Dozens were killed and more others wounded in a series of blasts at an arms depot in Aden on Saturday when people attempted to loot weapons, a government official told Xinhua.
An official with the health ministry department in Aden told Xinhua "at least 17 people were killed in the blasts. But at this moment we couldn't collect the death toll since they were brought to various hospitals across Aden."