BEIJING - College graduates who are taking postgraduate entrance exams are doing so largely because they desire better job opportunities, according to survey results released on Saturday.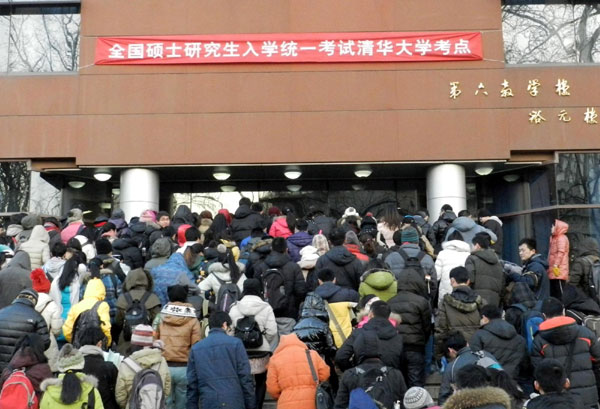 Candidates for the postgraduate entrance exams enter an exam hall in Beijing on Jan 5, 2013. [Photo/Xinhua] 
The survey, carried out by independent survey institution My China Occupation Skills from November 23 to December 19, 2012, indicated that 34 percent of respondents believe taking the exams will bring more promising career prospects, while 29 percent are looking to study at higher-quality universities.
A total of 1.8 million people have applied to take the 2013 postgraduate education entrance exams, which started on Saturday.
In September 2012, the Ministry of Education vowed to take a zero-tolerance approach to cheating on the exams, promising efforts to curb cheating, including using metal detectors to prevent the use of mobile devices.
Related stories:
Jobless college graduates trigger concern
Grad school graduates applying for menial jobs
China to spend 1 bln yuan to award outstanding graduate students
Over 1,500 graduates to teach in poor regions
College graduate becomes farmer
China to spend $159m to award graduate students
Related pictures:
1.8m begin graduate school entrance exam