Mohammed Elshijh, an Egyptian doctoral candidate at Beijing Language and Cultural University, chose to study Chinese literature after receiving his bachelor's degree in 1999.
As countries with long, rich histories, China and Egypt have much in common, Elshijh said, adding that Mo Yan, winner of the 2012 Nobel Prize for Literature, is also popular in his motherland.
"I have read Mo's novels such as Red Sorghum and Life and Death Are Wearing Me Out. His books are full of the smells of the countryside and reflect the relationship between the land and farmers," Elshijh said.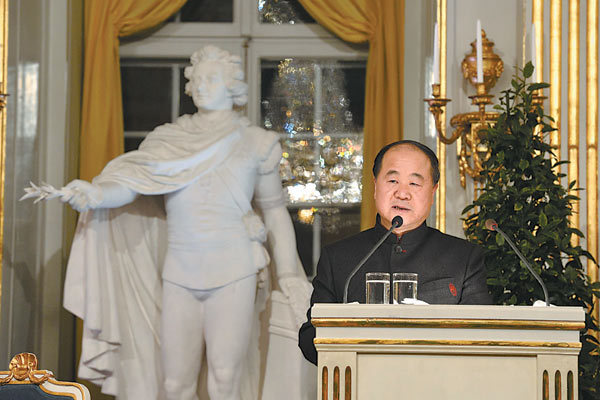 Mo Yan talks about his mother, hometown and controversy surrounding his selection as a Nobel winner on Friday. [Photo/Agencies]
On Oct 11, Mo, 57, became the first Chinese writer to win the top literary prize. He will attend the award ceremony on Monday.
The Swedish Academy described Mo's works as having combined "hallucinatory realism" with Chinese folk tales, history and contemporary life.
"Through a mixture of fantasy and reality, historical and social perspectives, Mo Yan created a world reminiscent in its complexity of those in the writings of William Faulkner and Gabriel Garcia Marquez, at the same time finding a departure point in old Chinese literature and in oral tradition," the academy's citation for the award said.
Elshijh said he was excited when he learned that Mo had won the prize.
"Mo's winning of the prize is pushing Egypt to translate more of his works into Arabic," Elshijh said, adding that there is already an Arabic edition of Red Sorghum. And Egypt's Ministry of Culture recently announced it will translate another of Mo's works to Arabic.
However, contemporary Chinese literature remains less influential than mainstream Western literature, Elshijh said.
Cheng Shu teaches advanced Chinese reading in the International Chinese Language and Culture Center at Tsinghua University in Beijing. She was surprised that many of her students, who were all from other countries, were following the news of Mo's award.
"I know Mo's works are probably too difficult for them, but I still recommended that they read some," Cheng said.
Although Chinese literature is getting more attention around the world, translated versions of Chinese works remain in small supply in the United States and Europe.
Jonathan Chuck, an American who has been working in social media for three years in China, has read some ancient Chinese classics in English and can name several ancient poets such as Li Bai.
Chuck said Chinese literature is hard to come by in the United States because bookstores simply don't carry many English translations. "Besides, China is considered a mysterious country and far away from our daily life."
Chuck said when he was in school, students mostly studied Western literature translated from French, German and Portuguese, not literature translated from Asian languages.
"China's Nobel prize will inspire more Westerners to notice Chinese literature, and I may read some of Mo's works," he added.
Li Ling, a professor at Beijing Language and Cultural University, said Chinese literature has less of a market than English literature because Western culture is the dominant culture.
Moreover, it is difficult to fully express some Chinese words in English, which can limit Chinese literature to a Chinese-literate audience, Li added.
In October, literary critic Zhou Limin noted that Western works are easily introduced to China and are favored by many Chinese readers even if they are not translated well.
"Western readers are more picky about what they read," he said, explaining that if a Chinese book is not translated well, it would be "out of the question" to recommend it to Western readers.
Li expects China's Nobel laureate to expand foreign readership.
"Some of my postgraduate students are very diligent in studying contemporary Chinese literature," Li said, adding that it is "not only the ones from Asian countries such as Vietnam and Thailand, but also those from developed countries such as Italy."
The dissertations foreign students hand in convey a deep understanding of Chinese literature, and they are as good as their Chinese counterparts, Li said.