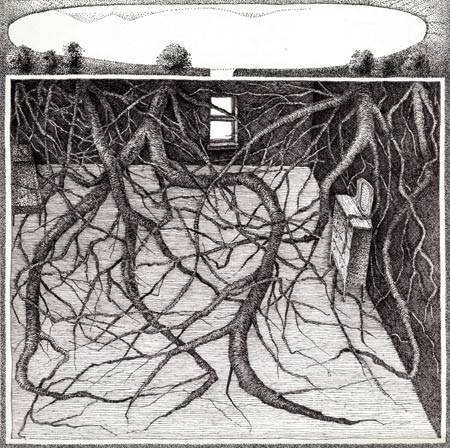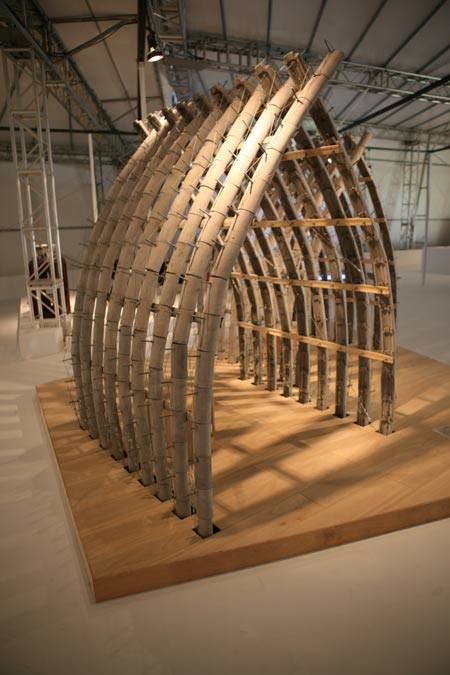 Zhang Yonghe's drawing Roots (top) and installation Wa-light (above). Photos provided to China Daily
A former dean of the MIT has returned home to Beijing where he nestles in an old courtyard house that serves as both physical and inspirational base. Chen Nan talks to Zhang Yonghe as he prepares for a retrospective exhibition.
Some 15 years after returning to Beijing, former head of the department of architecture at Massachusetts Institute of Technology Zhang Yonghe is presenting his retrospective exhibition titled Materialism.
As the title of the exhibition suggests, Zhang's work shows how materialistic people have become that they have lost their attitude toward lifestyle.
"What is China's architecture today? It's hard to ignore the market pressure. It seems that the connection between a house and the people living in it has been lost," says Zhang, 56, who became a Pritzker Prize jury member in 2011.
This exhibition, Zhang says, aims to explore the people and the buildings they inhabit, and the cities they represent during this period of China's unpre-cedented growth.
Instead of using architectural models to convey his design concepts, the established architect has transformed the halls of Ullens Center for Contemporary Arts into a hutong neighborhood of six courtyard-like houses.
Each house addresses a different aspect or focus of Zhang's practices, namely inhabitation, construction methods, urbanism, tradition, and perception and culture.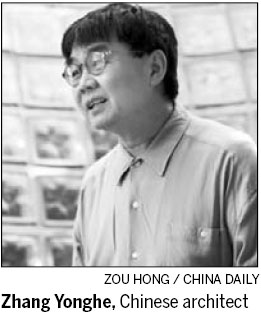 Two short films also help to illustrate Zhang and his witty and universal design solutions that are distinctly Chinese, humanistic and cosmopolitan.
Zhang himself has an attitude toward living, which explains why he set his studio right outside Yuanmingyuan, or the Old Summer Palace, an iconic spot in the capital.
Established by Zhang in 1993, it's in an old courtyard, which is also home to Zhang's FCJZ, or Feichang Jianzhu, literally translated as extraordinary architecture.
He has transformed the shabby rooms into offices with big windows, and bamboo and grown vegetables in the yards.
Since 1997, he has been teaching at the department of architecture of Peking University, which is across the road from his studio.
Zhang says the proximity of his studio and the university makes it convenient for him to go back and forth, but more importantly, the regular lifestyle and the environment keeps him calm and connected to the city of Beijing, where he was born and grew up.
Though he is known for his pioneering and futuristic designs, which have often invited controversy, Zhang's works also address his nostalgic love for the city, especially the traditional houses.
Spending his childhood in a hutong near Wangfujing, Zhang recalls that his family often took after-dinner walks around the area.
Unlike today's communities, which are within an enclosed compound, Zhang says he prefers walking among shops and restaurants.
"Courtyard houses are not simply houses but a kind of lifestyle, which I miss very much," says the architect who had taught in the United States for 15 years.
"Today's Beijing looks disorderly. Some buildings seem to be screaming at you. They have weird and giant exteriors but are disconnected and not related to the people and the environment," Zhang says. "Nobody knows where the architecture in the city is heading."
The Split House of Commune by the Great Wall was inspired by Zhang's courtyard obsession. He transformed the traditional courtyard, which he described as having "introverted personality", into an open space, which connects with the mountains.
In another of his projects - the renovation of Beijing's Qianmen Pedestrian Street, one of the capital's oldest commercial areas located at the southern part of Tian'anmen Square - Zhang designed the outside of each store to look like traditional courtyard houses, but the interiors are practical spaces for shops.
"I always like the idea of renovation rather than tearing down old houses," says Zhang, who studied architecture because his architect father wanted him to.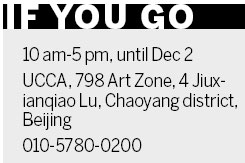 Zhang's late father Zhang Kaiji designed a dozen important buildings in the capital, such as the Beijing Observatory and the bleachers of the Tian'anmen Rostrum in the 1950s.
Zhang studied at Nanjing Institute of Technology and later received his Master of Architecture from the University of California, Berkeley.
His creativity is not only limited to designing buildings. He also likes to design clothes, furniture and tableware as well as draw cartoons.
"Zhang is very smart and likes to think out of the box," says Hong Huang, a media diva who has invited Zhang to design clothes for her fashion store, Brand New China, located at Sanlitun Village in Beijing.
"His clothes are comfortable and popular among both men and women."
According to Zhang, it was an accidental experiment, which turned out to be a success.
"I'm blessed to have a career in things I'm interested in. I have lots of fun in my job and I play hard," he adds.
Contact the writer at chennan@chinadaily.com.cn.