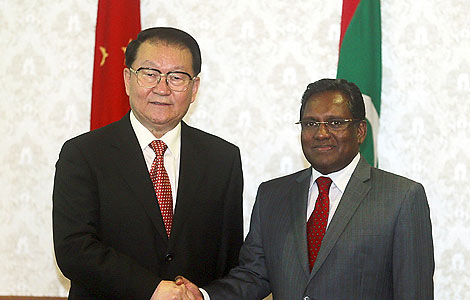 Li Changchun, a member of the Standing Committee of the Political Bureau of the Central Committee of the Communist Party of China, meets with Maldivian President Mohamed Waheed in Male, Oct 20, 2012. [Photo/Xinhua]
MALE - China and the Maldives vowed here on Saturday to make concerted efforts to push forward the bilateral cooperation to a higher level.
Visiting Chinese leader Li Changchun said "the purpose of my visit is to enhance the strategic mutual trust, consolidate traditional friendship and promote the bilateral cooperation in a bid to inject new vitality into the bilateral relations."
Li, a member of the Standing Committee of the Political Bureau of the Central Committee of the Communist Party of China, made the remarks when he conferred with Maldivian President Mohamed Waheed.
Li applauded the robust growth of China-Maldives relations in the past 40 years since the two forged diplomatic relationship.
He noted that the Chinese government always upholds the foreign policy of boosting the friendly and cooperative ties with the neighboring countries including those with the Maldives, expressing the hope that the two nations could carry out further cooperation in fishery, transportation, cultural and humanitarian areas.
"China will continue to provide assistance to its capacity to help promote the Maldivian social and economic growth and support the country's infrastructure and human resource development," Li added.
Echoing Li's views, Waheed said the Maldives would benefit from the development of China, an importance force to safeguard justice among the international community and the country would back China firmly on issues of its vital interests.
The two also exchanged views on issues concerning respective national development and the climate change.
Li also met with Abdulla Shahid, the speaker of the Maldivian People's Majlis, on the same day, and called on the parliaments of the two countries to continue to promote ties with the aim to enhance mutual understanding and friendship between the two peoples.
China would adhere to its friendly policies toward the Maldives and respect the political system and development path chosen by the Maldivian people, Li told Shahid, expressing his appreciation to the support from the Maldives for China on its key concerns.
Shahid spoke highly of China's foreign policy of treating big and small nations equally, stressing the 40-year robust development of Maldives-China relations have showcased the advantage of such a principle to the members of the international community.
Li arrived Friday in the Maldives which is the second leg of his three-nation visit to South Asia. The trip already took him to Pakistan.