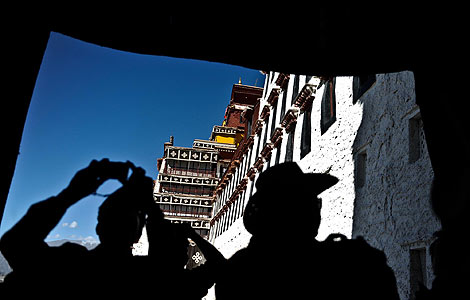 Visitors take pictures of the Potala Palace in Lhasa, Tibet autonomous region, Oct 16, 2012. [Photo/Xinhua]
LANZHOU - Authorities with China's national social sciences fund have earmarked 800,000 yuan ($128,000) for the compilation of a dictionary on Tibetan Buddhism, compilers said Saturday.
The dictionary will include over 40,000 entries such as terminologies, ancient books and records, historic figures and scenic spots related to Tibetan Buddhism, according to the Northwest University for Nationalities, based in Lanzhou, capital of Gansu Province.
The bilingual dictionary in both Tibetan and Chinese is being compiled by the university's research institute on overseas and ethnic documents, and it will be the first of its kind on Tibetan Buddhism and the fundamental Tibetology research, said a researcher with the institute.
The national social sciences fund is China's top social sciences funding program to promote research that is significant to economic and social development and the cultural promotion of the country's ethnic groups.