TORONTO - History buffs living halfway across the world got to feast their eyes on more than a thousand years worth of Chinese history without setting foot onto a plane.
Forty-eight pieces of intricate and carefully chosen Dazu rock carvings depicting a fusion of Buddhist, Taoist and Confucian beliefs made its way from China's southwest city of Chongqing for its North American premiere on Sunday at The Museum in Kitchener, about 110 km from Toronto.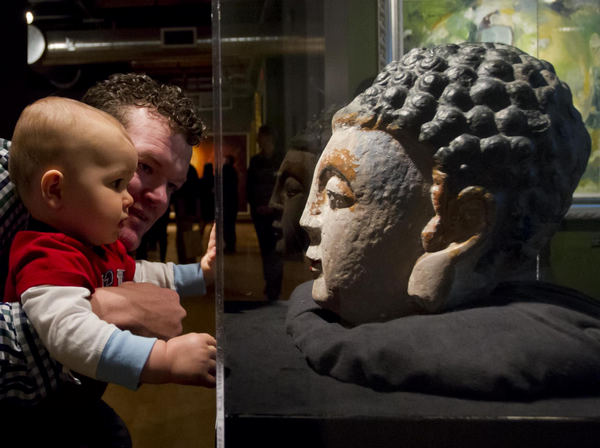 A man and his baby watch the Dazu rock carvings exhibited at The Museum in Kitchener, about 110 km from Toronto, Canada, Sept 24, 2012. [Photo/Xinhua]
With pieces dating back to the Song (960-1279 AD) and Ming (1368-1644AD) dynasties, the collection is only a small representation of the actual hillside carvings at the World Heritage site -- composed of more than 50,000 statues - in Dazu County.
But The Museum's CEO David Marskell is hoping that by offering Canadians a glimpse into what he describes as the "most spectacular Chinese cave art ever produced," it will help foster understanding and cultural exchange.
"They represent what is there (Dazu county) on a smaller scale because when you go there, the carvings tower over you, I think 13 to 14 feet tall in some cases," he said. "So this is just a sampling and what I really hope is that school children and anybody will learn, take a few moments from here, be in awe, inspired, and enlightened."
It might just be a small representation, but the Academy of Dazu Rock Carving's Director-General Li Fangyin said all the pieces were chosen with care.
"Although the number of sculptures isn't so big, they're all precious relics of the national level," he said. "They also have high artistic value, covering a variety of statues. Generally speaking, they can represent the unique culture of Dazu stone carving."
While China's rich history provided Marskell a number of options to showcase in his museum, he said the Dazu carvings offered up something different from other more internationally-recognized relics.
"I believe the Terra-cotta warriors are very well known, very famous,"  he said. "But when I started looking into the Dazu rock carvings, I realized they were equally important on a spiritual basis and I wanted to share that with Canadians, with children. I wanted them to see what there is in the world."
The carvings go back thousands of years, but the site in Dazu County was open to Chinese visitors in 1961, and eventually to foreign visitors in 1980.
Besides its fairly short exposure even within its own community in China, its artifacts have also rarely been seen abroad. The rock carvings have only ever left China once before on a tour around Europe, this marks the exhibit's second overseas excursion.
And bringing the pieces onto Canadian soil was no easy feat.
From planning to execution, it was a process that spanned roughly 14 months, but Marskell said he had his mind set on bringing the ancient relics to his museum the moment he laid eyes on them during a trip to China.
"It was my first time ever in China, I was by myself, I was eight days on the ground, four cities, 12 museums. I was very very busy, it was cultural sensory overload coming at me," said Marskell.
"But there was this peacefulness going up Baoding mountain at Dazu, and to see the large sculptures carved into the mountains and that feeling of peacefulness and the Buddhism, we were surrounded by those images and so on, and it was just something that I just had to do."
To complete his year-long vision, Marskell said the final obstacle was physically transporting the sculptures. The sculptures travelled by ship for 16 days, and then by train and truck before finally reaching The Museum almost a month later.
Besides the lengthy journey, it was also a pricey one. The entire exhibit, which will remain there for the next six months, cost The Museum roughly half a million Canadian dollars (¥510,000).
The Museum marked the opening of the exhibit on Sunday with a Buddhist blessing ceremony and traditional Chinese dances. A number of government officials, museum representatives from China and special guests were in attendance for the opening ceremony and were some of the very first to lay their eyes on China's national treasures in North America.
And on its very first day, it was already managed to put some people in awe.
"They did these so long ago with their hands, no technology and you just see all this," said Daphne Damato. "It's just beautiful, all this detail."
"I think more people should be aware of what's out there in the world," said another visitor, David Seebach. "It's just a historic moment for Canada, for Ontario and for Kitchener."
Besides showcasing the Dazu rock carvings, the exhibit also features paintings from three Chinese artists and Xinhua News Agency's Xinhua Photo Gallery on Chinese folk custom art, sponsored by the China National Tourist Office, Toronto.