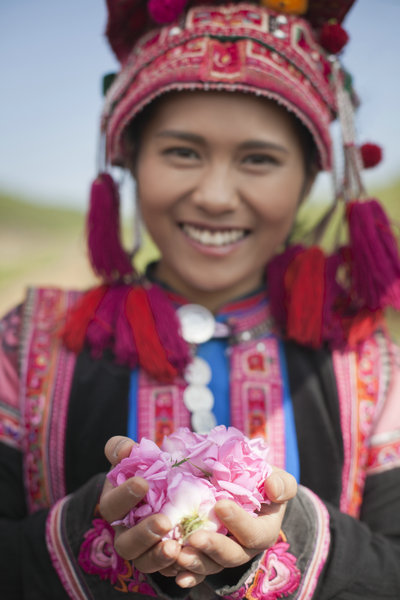 A woman from the Yi ethnic group wears traditional costume to collect roses in a garden belonging to Mythic Flora, a fragrance manufacturer in Yunnan province[Photo provided to China Daily]
Fragrance makers in the southwestern province are nosing ahead in their efforts to build local brands and gain global attention, report Yang Wanli and Li Yingqing in Kunming.
China's multibillion-dollar luxury goods market has just undergone a tumultuous year as a number of factors, including the plunging stock market and the national anti-corruption campaign, pushed sales lower and lower.
According to research released in January by Bain & Co, the United States management consultancy, spending on high-end goods in China fell by 2 percent to $17.26 billion last year.
However, despite the widespread decline, a small number of luxury items maintained steady growth, with cosmetics, perfume and personal care items registering annual growth rates of 5 to 10 percent.
For the leading brands among these mostly foreign exceptions, the strong consumer power of the country's 1.3 billion people not only represents promising profits, but also signals the threat posed by new local rivals.
Chinese perfume makers were once at the bottom of the industry chain, but they are now producing sought-after cosmetics from natural plant extracts, and trying to grow their share of the profitable domestic market.
"An increasing number of Chinese women are now becoming accustomed to world-famous cosmetics and perfume brands, such as Dior, Chanel and Estee Lauder, but few of them know that some of the essential ingredients used by these brands come from China, or rather, from Yunnan province," said Du Zhizhi, an associate researcher at the Kunming Institute of Botany of the Chinese Academy of Sciences.
Boasting 15,000 plant species, Yunnan, in China's southwestern subtropical zone, is the country's most biologically diverse province. It is home to more than 400 types of natural spices, accounting for nearly 80 percent of all the varieties found in China.
According to the provincial department of commerce, Yunnan's fragrance manufacturers exported more than $104 mill-ion worth of natural oils and fragrances made with synthetic chemicals last year. The annual output of two essential perfume ingredients dominated global trade, with local eucalyptus oil accounting for 90 percent of all sales, while geranium oil accounted for 50 percent.
"We've seen steady growth in the province's cosmetics, healthcare and pharmaceutical industries, the key industries that use natural oils, fragrance extracts and synthetic chemicals," said Feng Rui, director of the China Association of the Fragrance, Flavors and Cosmetic Industries.
Raw materials
Although Yunnan's more than 30 fragrance companies employ about 2 million workers, almost all of them are essentially suppliers of raw materials, according to Feng.
"In recent decades, (profit) margins have been falling for these companies because of rampant price wars among domestic suppliers. That has resulted in some companies thinking about ways to avoid obstacles - by building local brands," he said.
That process started early for the pharmaceuticals giant Yunnan Baiyao Group in Kunming, the provincial capital. In 2008, Baiyao signed a technology transfer agreement with Maleave Cosmetics of Japan, and they started jointly developing cosmetics in 2011.
In 2014, the company's daily care products generated 3 billion yuan ($461 million), accounting for about 15 percent of the group's annual revenue, with 95 percent of the total coming from sales of Baiyao's star product - toothpaste.
"It's not easy to promote a new brand and make inroads in this profitable cosmetics market. It requires high levels of investment, but only generates low returns in the short term," said Qin Wanmin, vice-president and general manager of the group's department of healthcare products. According to Qin, it's common for overseas giants, such as L'Oreal Paris, to invest billions of dollars in the development of new products.
For the past five years, the company's cosmetics range has deliberately been limited to shampoos, face masks, soaps and hand creams.
"It will be some time before we plan a big expansion in the product range. The industry chain in Yunnan is still underdeveloped, so we're better off concentrating on producing medicines," Qin said.