"Sex addiction" is a subject that often prompts ribaldry rather than sympathy, especially if a Hollywood star is involved. For many people it's the butt of crude jokes, but those who feel themselves afflicted are often confused, ashamed, dispirited and horrified. Yang Wanli and Tang Yue report from Beijing.
Shi Bin's aggressive appearance - a fingernail-sized piercing in his left earlobe and a brace of tongue studs - is at odds with his gentle manner. However, the 21-year-old admitted that his "punk appearance" hinted at "a demon" inside, one he has been reluctant to acknowledge openly - an addiction to sex.
Shi said he's struggling between the frequent urges and the accompanying physical or psychological problems, but he is unable to find help. The exact number of sex addicts in China is unknown because no surveys have ever been conducted on the issue.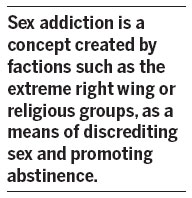 Those who believe themselves to be in its thrall say they are ashamed, and few care to speak out or seek medical assistance, even though the condition makes them feel isolated and depressed.
There has not been a great deal of academic study or research into the topic, said Huang Yingying, deputy director of the Institute of Sexuality and Gender at Renmin University of China. She said it is not a social problem at the moment, but there are no reliable figures in China, because of the difficulty of conducting investigations and surveys into the subject.
One-night stands
Shi has masturbated as often as seven times a day since the age of 15 and has frequently indulged in one-night stands. During his senior high school years, he often had affairs with married women.
He lived with his girlfriend at college and said they made love almost every day, but when the relationship ended earlier this year, the maniac masturbation returned.
"When it (the desire to masturbate) arose, it was just so hard to resist. I always struggled for a couple of hours before surrendering. Then I did it again and again," said Shi in a soft voice. "I always felt tired and weak for the next few days and found it hard to concentrate at work."
Sometimes the urge arrived when he was in the office or traveling home. He didn't literally stop working or get off the train to act on the urge, but often spent 30 minutes or even longer indulging his fantasies.
The physical fatigue resulting from overwhelming lust arrives and recedes, but the shame and guilt never stop. "I believe in Buddhism. It is wrong to be greedy and indulge oneself in sex. I've tried abstaining now and then, but it never lasted long," he said.
"I don't approve of premarital sex, but I failed to abide by that principle as well. I don't know why we (he and his ex-girlfriend) made love again and again. It made me feel the relationship was all about sex, but I didn't know how to start a conversation (to address the situation)."
Shi and his friends sometimes discussed their sex lives and he tried to explain his problem, but no one took him seriously: "They just said jokingly, 'Brother, you are a superman!' What could I say?"
Sexual chat rooms
He found people who claimed to be in a similar situation online. But a lot of the chat groups just turned out to be forums for arranging single encounters and even group sex. Shi insisted that he never succumbed to the temptation, although the groups made it easy to find people with similar impulses.
In the chat rooms, people shared their various sexual experiences and their hunger for more sex, topics that are rarely broached in public. Most of those who claimed to be sex addicts had one-night stands with strangers. Some felt guilty about their desires or experiences with people they didn't love, but many admitted their sense of wrongdoing derived from uncomfortable physical conditions, such as back pain, fatigue and an inability to concentrate, rather than psychological promptings.
Online chat rooms and social networking sites provide an outlet for many who claim sex addiction. Sina Weibo, China's Twitter-like site, has dozens of users with pseudonyms such as "Sex Addict" or "Sex Addiction".
"I'm a sex addict", wrote one 25-year-old woman, who claimed she has been addicted for three or four years. After breaking up with her boyfriend during her sophomore year at college, she felt a much stronger sexual desire than before. "I had sex with many men after that, including a friend who is also addicted to sex," she wrote. "I cannot stop having sex with other people and I felt guilty after I found a boyfriend a few months ago. If I can't even control my desires and remain loyal to the one I love, I'm just an animal."
She is not alone, apparently. Many other Chinese appear to be concerned about their overt sexual urges. Almost every social networking chat group with a name such as "Sex Addicts" or variants on the theme consists of around 40 or 50 members, with most saying that they have "excessive" sexual desires, but still feel guilty after one-night stands.
"I sometimes have to make love with different people five times a night, or even more. In the end it isn't a good feeling, but I can't stop until I am physically exhausted," wrote one chat room visitor, under the name "Poor man with too much sex".