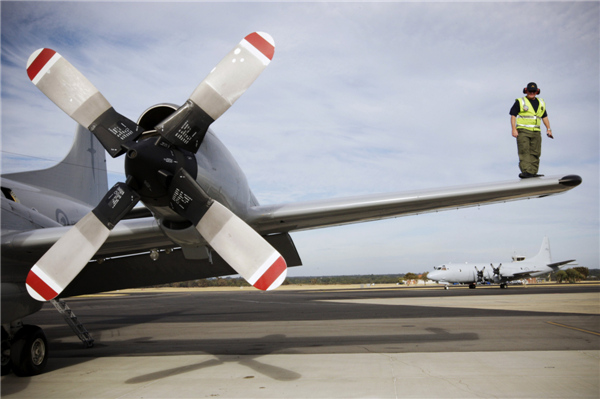 A New Zealand air force flight engineer conducts a preflight check on a P-3K2 Orion's wing before its departure from RAAF Base Pearce, located near Perth, Australia, on Tuesday. It will participate in the search in the southern Indian Ocean. Australian Defence Force / Reuters
Ships off Australia listening for underwater signals from the flight recorder, or black box, of Malaysia Airlines Flight MH370 have not been able to relocate signals, or "pings", that were first detected last weekend, authorities said.
Since the airliner vanished on March 8 with 239 people on board, including 154 Chinese passengers, time is running out to find the signals because the black box batteries are nearly drained, authorities said.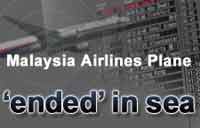 Transmissions picked up by Australia's Ocean Shield ship on Saturday and Sunday are consistent with those from aircraft black boxes. Authorities in charge of the search said they will continue to scour the remote southern Indian Ocean for a few more days before they consider sending down a mini-submersible to conduct investigations.
Angus Houston, who is in charge of the Australia-led Joint Agency Coordination Center, clarified on Tuesday that while the pings were an exciting development, further transmissions were needed before scouring the ocean floor.
"We need to continue for several days, to the point at which there is absolutely no doubt that the pinger batteries have expired," Houston said.
"Until we stop the pinger search, we will not deploy the submersible."
He said that no further transmissions had been detected in the search area off western Australia that could help pinpoint where the jet might have crashed.
The plane vanished en route from Kuala Lumpur to Beijing, and the search is now focusing on a 600-kilometer arc.
Up to 11 military planes, three civilian planes and 14 ships assisted in Tuesday's search area of about 77,580 square kilometers, the JACC said.
Four Chinese and British vessels were also trying to track pulse signals detected by the Chinese patrol ship Haixun 01 in another search area on Tuesday.
Haixun 01 detected a pulse signal on Friday with a frequency of 37.5 kHz - the same as those emitted by flight recorders - and re-detected on Saturday the pings for 90 seconds about 2 km from the original spot.
Haixun 01, Donghaijiu 101 and navy vessel Jinggangshan, as well as British HMS Echo, are scanning an expanded area of 432 sq km in the southern Indian Ocean where the signals were first detected, Xinhua News Agency reported.
Haixun 01 Captain Jiang Long said his ship was deployed to the western part of the search area, Donghaijiu 101 to the most central part, and Jinggangshan to the east under the coordination of the China Maritime Search and Rescue Center.
China's deep-sea manned submersible Jiaolong is also capable of searching the ocean floor for MH370's black box, an official said.
Liu Feng, director of the National Deep Sea Center, a government-funded organization in charge of the submersible's management and maintenance, said Jiaolong is ready. He added that after the black box from flight MH370 is located, Jiaolong can play an important role in salvage work and in evaluating deep-sea conditions.
JACC Chief Houston had indicated that the time was nearing for the Ocean Shield, which is crisscrossing the area in an attempt to relocate the signals, to launch the US-made autonomous underwater vessel Bluefin-21.
But he issued a more definitive timeframe on Tuesday, saying that the 5-meter-long submersible sonar device will not be put into the water until the pinger had definitely stopped transmitting.
"If we go down there now and do the visual search, it will take many, many, many days because it's very slow, very painstaking work to scour the ocean floor," he said.
In Beijing, families of MH370 passengers marked the one-month anniversary of the plane's disappearance with a tearful candlelight vigil on Tuesday, desperately trying to comfort each other as their agonizing wait for developments on the search continues.
Premier Li Keqiang said China will continue working with global authorities in the hunt for missing Malaysian Airlines Flight MH370.
He made the remarks during a meeting with visiting Laotian Prime Minister of Thongsing Thammavong in Sanya, Hainan province, on Tuesday. Thongsing sent his condolences to the families of Chinese passengers on board the flight and spoke highly of the efforts China has made in searching for the plane.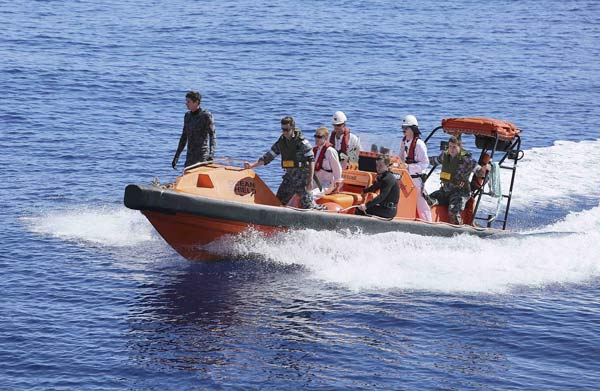 Crew members ride a fast response craft from the Australian Defence Vessel Ocean Shield as they continue to search for debris in the southern Indian Ocean for the missing Malaysian Airlines flight MH370 in this picture released by the Australian Defence Force April 8, 2014.[Photo/Agencies]