KUALA LUMPUR - Malaysia pledged Monday that it will never give up until it finds out what happened to missing Malaysia Airlines Flight MH370.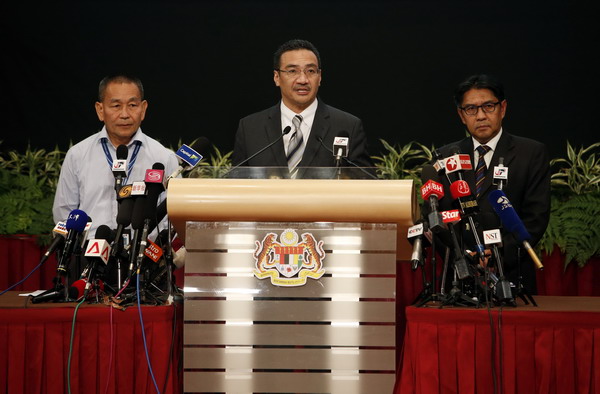 Malaysia's acting Transport Minister Hishammuddin speaks during a news conference on missing Malaysia Airlines Flight MH370 at Putra World Trade Center in Kuala Lumpur March 31, 2014. [Photo/Agencies]
"As I promised the families that Malaysia, working with our international partners, will not give up hope. We will continue with all our efforts to find MH370," acting Transport Minister Hishamuddin Hussein said at a press conference.
As for the ongoing search, he said 10 aircraft and 11 ships are involved in Monday's mission, which covers an area of 254,000 square km in the southern Indian Ocean some 2,060 km west of Perth.
Among the eight ships he mentioned, Chinese icebreaker Xuelong on Monday left the search area for home to prepare for the next polar expedition. It is expected to return to Shanghai in mid-April.
Meanwhile, a Malaysian warship and a fourth Australia ship, which is fitted with a black box detector and an autonomous underwater vehicle, are due to reach the search area Thursday, according to the minister.
In addition, the Malaysian government will hold a high-level briefing for families of MH370 passengers, said the minister, adding that international experts will be present to update them on latest developments of the search.
According to the minister, Malaysian Prime Minister Najib Razak is to visit Perth on Wednesday, and Hussein himself will travel to the United States for discussions with US Defense Secretary Chuck Hagel on the search mission among other subjects.