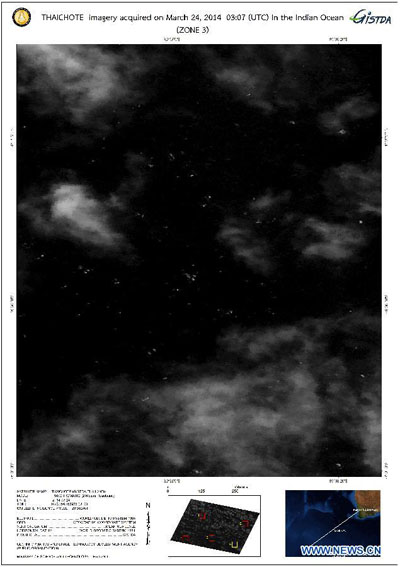 Satellite image provided by Thailand's Geo Informatics and Space Technology Development Agency (GISTDA) on March 27, 2014 shows floating objects in the Indian Ocean. A Thai satellite has detected floating objects that span an area of 450 square kilometers in the Indian Ocean, about 2,700 kilometers from Perth, Australia, GISTDA said Thursday in an on-line statement. The floating objects are suspected to be related to the missing Malaysia Airlines flight MH370, it said.[Photo/Xinhua/GISTDA]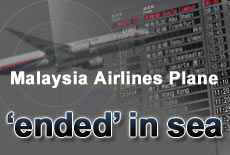 BANGKOK - Planes and ships searching for debris suspected of being from the missing Malaysian jetliner failed to find any Thursday before bad weather cut their hunt short, as Thailand said one of its satellites had spotted hundreds of objects in the area.
The Thai satellite spotted about 300 objects floating in the southern Indian Ocean near an area where planes and ships have been hunting unsuccessfully for a week for any sign of debris from Malaysia Airlines Flight 370, which disappeared March 8 with 239 people aboard.
The images from the Thai satellite showed "300 objects of various sizes" in the ocean, about 2,700 kilometers (1,675 miles) southwest of Perth, said Anond Snidvongs, director of Thailand's space technology development agency.
He said the images, taken Monday by the Thaichote satellite, took two days to process and were relayed to Malaysian authorities on Wednesday.
The objects were about 200 kilometers (125 miles) from the area where a French satellite on Sunday spotted 122 objects, Anond said. The objects ranged in size from 2 meters (six feet) to 16 meters (53 feet) long.
A Japanese satellite also spotted objects possibly related to the missing Malaysia Airlines flight MH370 in the Indian Ocean on Thursday, according to Japan's Kyodo News.
Tough search 
Both announcements came after the Australian Maritime Safety Authority said it had to pull back all 11 planes scheduled to take part in the search Thursday because of heavy rain, winds and low clouds. Five ships continued the hunt.
All but three of the planes, including a US Navy P-8 Poseidon, reached the search zone, about 2,500 kilometers (1,550 miles) southwest of Perth, before the air search was suspended, AMSA spokesman Sam Cardwell said.
They were there "maybe two hours" and they did not find anything, Cardwell said.
"They got a bit of time in, but it was not useful because there was no visibility," he said.
In a message on its Twitter account, AMSA said the bad weather was expected to last 24 hours.
Planes have been flying out of Perth for a week, looking without any success for objects spotted in vague satellite images, including the French one.
Malaysian officials said earlier this week that satellite data confirmed the plane ended into the southern Indian Ocean. On Thursday, Malaysia Airlines ran a full-page condolence advertisement with a black background in a major newspaper.
"Our sincerest condolences go out to the loved ones of the 239 passengers, friends and colleagues. Words alone cannot express our enormous sorrow and pain," read the advertisement in the New Straits Times.
The 122 objects captured by the French satellite ranged in size from 1 meter (3 feet) to 23 meters (75 feet) long, but the search for them and the objects from the Thai satellite will have to wait until the weather in the search area improves, echoing the frustration of earlier sweeps that failed to zero in on three objects spotted by satellites.
Experts cautioned that the area's frequent high seas and bad weather and its distance from land were complicating an already-trying search.
"This is a really rough piece of ocean, which is going to be a terrific issue," said Kerry Sieh, director of the Earth Observatory of Singapore. "I worry that people carrying out the rescue mission are going to get into trouble."