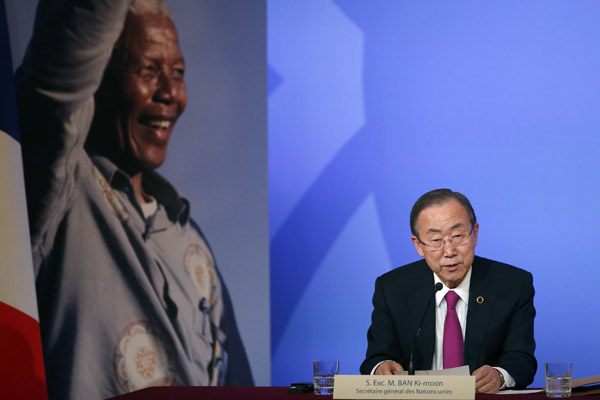 UN Secretary General Ban Ki-moon attends a news conference at the Elysee Palace at the end of the Elysee Summit for Peace and Security in Africa, in Paris, Dec 7, 2013. [Photo/Agencies]
UNITED NATIONS - UN Secretary-General Ban Ki-moon is scheduled to travel to South Africa on Sunday to attend the official memorial service for former South African President Nelson Mandela, a UN spokesman said here Saturday.
The secretary-general, who is on a visit to France, will leave Paris for South Africa on Sunday to attend Mandela's memorial service, slated for Tuesday, the spokesman said, adding that Ban will return to New York on Wednesday.
Mandela passed away on Thursday at age 95.
The UN family on Friday mourned the loss and celebrated the enduring legacy of Mandela, the peace advocate who led a fight to end apartheid.
As the UN flag was lowered to half staff over the world body's headquarters in New York, the 193-member UN General Assembly and the 15-nation UN Security Council respectively observed a moment of silence to honor the memory of Mandela, who emerged from 27 years of imprisonment to become South Africa's first black President.
The state funeral for Mandela, the Nobel peace prize laureate, is scheduled for December 15.