Middleweight showdown no gamble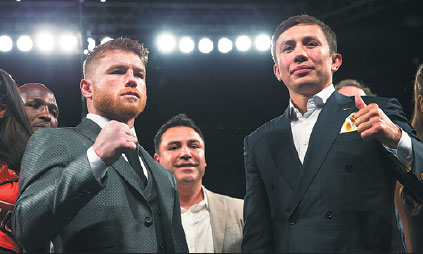 Saul 'Canelo' Alvarez (left) and Gennady Golovkin will fight for the world middleweight title in Las Vegas on Sept 16. [Photo/Agencies]
LAS VEGAS - Gennady Golovkin will make his Las Vegas debut when he meets Canelo Alvarez in a middleweight title showdown that figures to be the richest fight since Floyd Mayweather and Manny Pacquiao squared off two years ago.
Promoters announced on Monday that the much-anticipated Sept 16 fight between Golovkin and Alvarez will take place at T-Mobile Arena on the Las Vegas strip.
The fight will be televised on pay-per-view from the 20,000-seat facility, which won out over bids from AT&T Stadium in Dallas and Madison Square Garden in New York.
"It was a hard decision because there was so much interest from other venues," said Golovkin's promoter, Tom Loeffler. "It's just the right time for Gennady to be in Las Vegas and make a big splash."
Golovkin, a knockout artist from Kazakhstan who hasn't lost in 37 fights, will defend his middleweight titles against Alvarez, the red-headed Mexican superstar.
Alvarez, whose only loss was to Mayweather in 2013, is coming off a lopsided win over Julio Cesar Chavez last month.
"Everybody wants to go to Vegas to have a great time and watch a great fight," said Oscar De La Hoya, who promotes Alvarez.
Golovkin, popularly known in boxing as 'Triple G,' has campaigned for a fight against Alvarez for much of the past two years. The fight was announced last month after Alvarez beat Chavez.
"We had to wait for a long time," Loeffler said.
"It was frustrating having a champion willing to fight anybody who still found it virtually impossible to get top names in the ring with him."
Golovkin is coming off a tough March decision over Daniel Jacobs at Madison Square Garden. That fight marked the first time in nine years the Kazakh was forced to go the distance.
Speculation in boxing circles was that Golovkin's performance against Jacobs might have convinced Alvarez that it was worth the risk to face such a big puncher.
De La Hoya, who announced the bout during an appearance on ESPN, said the fight between two boxers who are all action will help fans forget the 2015 bout between Mayweather and Pacquiao, which generated more than $800 million in revenue but fell far short of expectations.
"I made Triple G versus Canelo in order to bring back those fans and give fight fans a real fight," De La Hoya said. "This is a real fight."
Golovkin (37-0, 33 KO) has been established as an 8/5 favorite over Alvarez (49-1-1, 34 KO).
Alvarez is a former welterweight and super welterweight champion who moved up to a catch weight of 164 pounds for his fight against Chavez.
Alvarez was handed his only loss by Mayweather, dropping a decision in a 2013 fight many thought he took too early in his career.
De La Hoya said he talked to officials from several venues wanting to host the fight, including Dodger Stadium and Madison Square Garden.
In the end it came down to the glitz and excitement of Las Vegas against a much larger capacity at the stadium where the NFL's Dallas Cowboys play.
"Ultimately it's the entertainment factor," he said. "People want to go to parties before and after the fight."
Associated Press