Ding beats Japan's Hirano to secure women's singles title for China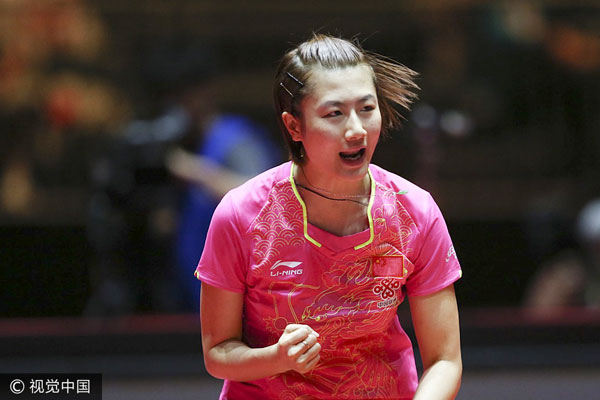 China's Ding Ning celebrates after beating Japan's 17-year-old sensation Miu Hirano 4-1 in the women's singles semifinals at the World Table Tennis Championships in Dusseldorf, Germany, June 3, 2017. [Photo/VCG] 
DUSSELDORF, Germany - World No 1 Ding Ning beat Japan's 17-year-old sensation Miu Hirano 4-1 in the women's singles semifinals at the World Table Tennis Championships here on Saturday.
Ding's victory was a sweet revenge for her shock defeat to Hirano in the Asian Championships quarterfinals last April and has also secured the title for China. The other semifinal is an all-Chinese affair between world No 2 Liu Shiwen and world No 3 Zhu Yuling.
Hirano has been regarded as the Chinese women's most dangerous threat after beating three Chinese players, including Ding, en route to the Asian crown. Ding opened the competition well, winning the first three games 11-4, 11-8 and 11-5 for a 3-0 lead.
The Japanese World Cup champion fought back with her powerful forehand attack and pulled one game back. Ding gave her no chance in the next game and wrapped up the match at 11-5.
"I made full preparation for this match," a jubilant Ding told the audience. "I know that I could catch up even after she won the fourth game."
She added, "I was under a lot of pressure because I had been drawn in the top half without any other Chinese player. I am happy that I have finished the job.
"I don't care which teammte I will play in the final because everyone of us wants to show you a fantastic match."