Batra and Das make history for India at table tennis worlds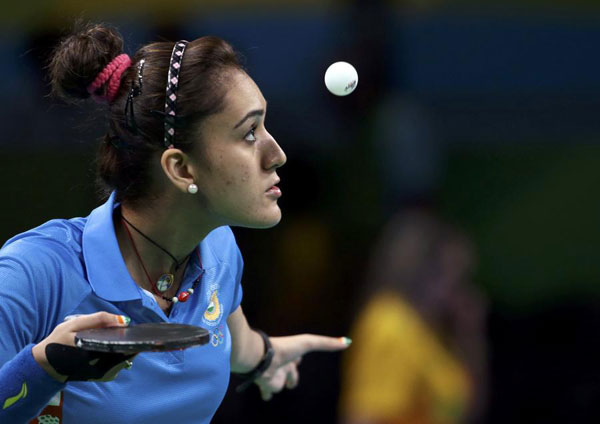 Manika Batra of India eyes the ball during her match against Katarzyna Grzybowska-Franc of Poland during women's singles preliminary round at 2016 Rio Olympics. [Photo/Agencies]
DUSSELDORF, Germany - Manika Batra and Mouma Das on Thursday became the first Indian pair to reach the doubles quarterfinals in the World Table Tennis Championship history.
The pair received a walkover from their opponents Li Jie of the Netherlands and Li Qian of Poland as Li Qian had suffered a stomach problem.
Prisca Rosario became the only Indian to make it to the quarterfinals of the 1956 World Championships in Tokyo partnering a US player. Additionally, Krishna Nagaraj reached the quarterfinal in men's singles in the same championships.
Das said, "I don't know what to even feel. It's just sad that our opponents could not play the match. But at the same time, I am so elated that we have created history for our country."
The 33-year-old continued, "We were well prepared for the match anyway. We practiced against defenders to get the feel. I am actually still shocked that we got a walkover. But we have created history, it is special."
The Indians will now compete against 2015 World Championships silver medalists Ding Ning and Liu Shiwen.
"Playing against China at the World Championships in the main hall is so so special, it has not sunken in yet. We are ready to face them, and we believe that if we play good, we have chance to bear them," said Das.
Batra, 21, said, "I was really shocked to know about the walkover, but at the same time, I just can't believe we made it to the quarterfinals. I am going to give it my best shot. We are very close to winning a medal now."
Most Popular
Highlights
What's Hot