Champions League Final: Buffon looks to become oldest winner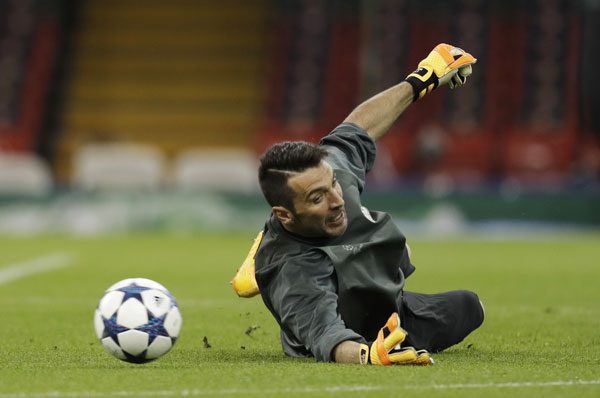 Juventus' Gianluigi Buffon during training at the National Stadium of Wales, Cardiff, June 2, 2017. [Photo/Agencies]
CARDIFF, Wales — Gianluigi Buffon has collected every major prize in club soccer, except the Champions League. Time is ticking for the Juventus goalkeeper to complete the set.
If the 39-year-old Buffon finally lifts the European Cup on Saturday following a Juventus victory over Real Madrid, he would become the competition's oldest champion. For a decade, that record has been held by Paolo Maldini, a winner with AC Milan at age 38.
"It would be great joy," Buffon said Friday inside the Millennium Stadium. "There's nothing better in life than getting your reward, because you know how hard you've worked, how much you've sweated for it, and with teammates who've worked even more to get it."The top priority is likely to be stopping Real Madrid's Cristiano Ronaldo, whose 10 European goals this season have made him the all-time leading scorer in the Champions League with 103.
For all Buffon has achieved in soccer, including a World Cup win with Italy in 2006, he's never won the world player of the year title — unlike Ronaldo.
"I'm not that conceited," Buffon said, when asked about challenging Ronaldo for the game's top individual accolade. "I wouldn't dream of putting myself on the same pedestal as Cristiano. We have completely different roles. Mine is to defend, his is to attack. We're complete opposites.
"All I can do is try to not concede goals, but he is able to determine the outcome of a match much more. I'm pleased the media tend to see tomorrow's game as a battle between me and Cristiano, but it's not the reality."Buffon remains the world's most expensive goalkeeper. Juventus paid Parma 53 million euros (then $44.8 million) for him 16 years ago — a fee that's yet to be eclipsed for another goalkeeper.
Gareth Bale held the title of the world's most expensive player following his 101 million euro (then $136 million) move from Tottenham to Real Madrid in 2013, until that fee was surpassed by Paul Pogba last year.
But Welsh fans hoping to see their home favorite should be prepared for disappointment on Saturday.
Bale has been sidelined since April with a calf injury, having already missed nearly three months earlier this season with a right ankle injury. He has declared himself fully fit for his third Champions League final, but coach Zinedine Zidane still won't say if he will return to the starting lineup. The more creative Francisco "Isco" Alarcon might retain his place in the lineup instead.
"Isco and Bale are two players who can also play together," Zidane said Friday. "In the long run, anything can happen. When I look at my squad, what's good is that they're all ready and willing to play. It's not only mentally, of course. They have to be ready physically, too. That's what I'm interested in right now — everyone in good shape and at a high level."Juventus is preparing to cope with both Alarcon and Bale.
"Bale's very fast, has great speed and in open field he's devastating," Juventus coach Massimiliano Allegri said. "In three passes, he can take it from one end of the pitch to the other. Isco is less predictable than Bale but he gives Madrid less defensive order. ... Isco has had a great season and has grown a lot and makes Real Madrid more difficult to read." Madrid is looking to become the first team to defend a Champions League title and win a record-extending 12th European Cup. This is the team's third final in the past four seasons.
Juventus lacks the Spanish club's pedigree in Europe, winning the top prize only twice and not since 1996.
As UEFA tries to create more of a Super Bowl-style feel to its showpiece, the game will be preceded by entertainment from the Black Eyed Peas.
"There's a lot of eyeballs, a lot of football fans," singer Will.i.am said. "And hopefully we could bring a lot of music fans to watch us, too."
AP