Suspected fraudster brought back from Indonesia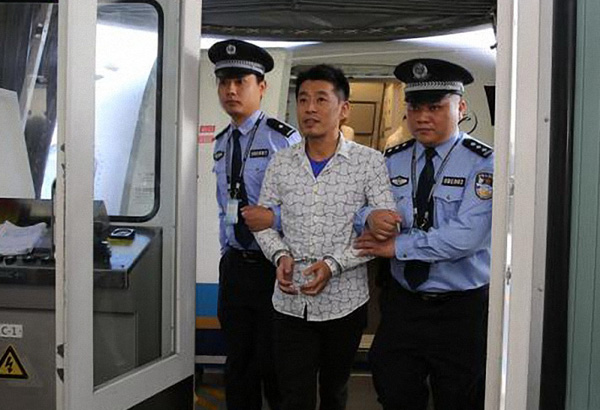 Song Miqiu, a fraud suspect who fled China, is escorted from an aircraft upon his return. [Provided to China Daily]
A fugitive suspected of conning Chinese coin collectors out of 600 million yuan ($88 million) has been brought back to China after being detained in Indonesia.
Song Miqiu, who also goes by the name Zhang Jian, is accused of selling fake shares in his company and running a pyramid scheme, according to a statement from the Ministry of Public Security on Tuesday.
Since November 2012, Song allegedly led a group in hawking wuxingbi, which he touted as a collectible gold coin that would rise sharply in value, the ministry said. The public security authority in Hunan province launched an investigation into Song's operation in December 2013, which prompted the suspect to flee abroad, it said.
"We followed the case closely and dispatched police officers several times to find Song overseas," the statement said. "We passed his name to Interpol as a most-wanted fugitive in March 2016."
Song had traveled around Southeast Asia by offering bribes to local officials and providing fake identity documents, it said.
"Although he was in foreign countries, he still led the group to get profits by making use of the internet to promote pyramid selling projects, such as wuxingbi," the statement said.
China Central Television reported that Song, 40, a native of Heilongjiang province, established a reward system to attract coin buyers. His company also made use of social media to dupe residents.
Interest in the coins reportedly increased this year, despite being identified in 2013 by the ministry and State Administration for Industry and Commerce as a pyramid scheme.
"To fight pyramid selling and the coins, we launched a campaign and arrested a large number of suspects across the country," the Ministry of Public Security said.
"At the same time, we also took the initiative to contact police in Thailand, Malaysia and Indonesia to investigate Song. He was found hiding in Indonesia in May, and thanks to police in that country we finally seized him."