Jingdezhen ceramics exhibition opens in Beijing
A ceramic exhibition displaying 680 ancient porcelain chips and works from Jingdezhen, East China's Jiangxi province opened in Beijing on June 5.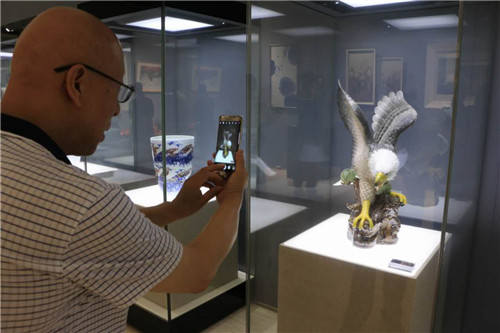 A visitor takes a picture of porcelain from Jingdezhen. [Photo provided to chinadaily.com.cn]
"The ceramic culture exhibition of Jingdezhen China", co-hosted by the CPPCC (Chinese People's Political Consultative Conference) Culture and History Museum and the Jingdezhen Municipal Committee of the CPPCC, is divided into five sections to exhibit 364 ancient porcelain chips and 316 samples of ancient ceramic, imitations, modern household ceramics, art ceramics and high-tech ceramics.
According to the organizer, the 364 specimens of ancient porcelain are from famous kilns of every period of China's history since the Eastern Han Dynasty (25-220), and clearly demonstrate Chinese porcelain development.
The exhibition also includes over 200 pieces of porcelain imitating examples from the Ming, Qing and Yuan dynasties. These more modern works are selected from the most influential manufacturers of imitation porcelain in Jingdezhen, and are often even more exquisite than the originals.
A ceramic road connecting the east and the west is part of the exhibition. It aims to tell China's story to the world and respond to the national Belt and Road initiative by carrying forward the ceramic culture, according to Wu Juan, member and secretary-general of the Standing Committee of the Municipal Committee and Secretary of Jingdezhen, speaking at the opening ceremony.
"We hope we can contribute to the 'going global' strategy for Chinese culture and help to build Jingdezhen into a globalized city with frequent exchanges with the world,"Wu added.
Nie Lechun and Yu Juxian, inheritors of intangible cultural heritages and representatives of Jingdezhen craftsmen, inaugurated the exhibition. National and local officials attended the opening ceremony.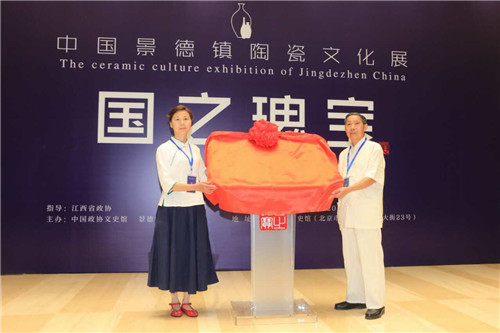 Inheritors of intangible cultural heritage and representatives of Jingdezhen craftsmen, Nie Lechun and Yu Juxian inaugurate the exhibition. [Photo provide to chinadaily.com.cn]
The exhibition will last until August 18.