Home sweet home for Predators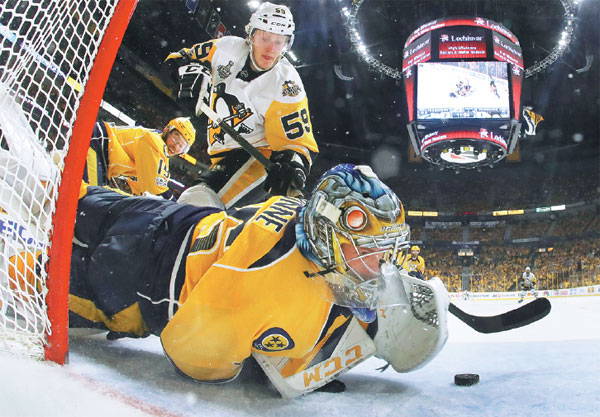 Nashville Predators goalie Pekka Rinne dives across the crease to thwart a scoring attempt by Pittsburgh Penguins' Jake Guentzel during Monday's Game 4 of the NHL Stanley Cup final in Nashville, Tennessee. The Preds won 4-1. [Photo/Agencies]
It's a best-of-three for Stanley Cup after gritty Nashville knots series
NASHVILLE, Tennessee - Frederick Gaudreau is doing his best to earn his own locker in the Nashville Predators dressing room.
An undrafted free agent playing just his sixth career playoff game, Gaudreau scored the go-ahead goal 3:45 into the second period and Pekka Rinne made 23 saves as the Predators beat the Pittsburgh Penguins 4-1 on Monday night to even their best-of-seven Stanley Cup final 2-2.
It's now a best-of-three sprint to hockey's Holy Grail, and Nashville is riding a wave of momentum after outscoring the defending champions 9-2 over the past two games.
Gaudreau, a 24-year-old rookie, only has a chair in the Predators' dressing room, but he now is the second player in NHL history to score his first three career goals in a Stanley Cup final, joining Johnny Harms of the 1944 Chicago Blackhawks.
Calle Jarnkrok, Viktor Arvidsson and Filip Forsberg also tallied for Nashville, which improved to 9-1 at home.
"We were in a tough hole against a really good team, came home and took care of the home games with the help of all our great fans," Rinne said.
"It's a great feeling. We played two really good games."
Penguins captain Sidney Crosby scored his first goal in the series after he was held without a shot for only the fifth time in his career in Game 3.
The Penguins now have lost two straight for the second time this postseason. They also lost Games 5 and 6 against Washington. Goalie Matt Murray lost consecutive games for the first time in his young career.
Game 5 is on Thursday night in Pittsburgh.
Former NBA All-Star turned TV commentator Charles Barkley joined NHL commissioner Gary Bettman in watching the game from a skybox in sold-out Bridgestone Arena.
Rain most of Monday kept the crowd outside from reaching the more than 50,000 who showed up on Saturday for the first Stanley Cup final game ever played in Tennessee.
The throng stretched three blocks and watched the game on with three giant TV screens. A downtown amphitheater was also opened up and jammed to capacity.
Craig Smith, who had two of Nashville's first six shots, ricocheted a puck off Murray's pads that Jarnkrok tapped in at 14:51 to start the fans yelling. Pittsburgh lost a challenge for goalie interference.
Just 66 seconds later, Crosby tied the score on a breakaway. He skated in alone from the blueline and deked to his right, sliding the puck between Rinne's pads for his eighth goal and 24th point of the playoffs.
The acrobatic Rinne kept it tied in the early minutes of the second period, first with a scintillating stop of Jake Guentzel, then by foiling Chris Kunitz on a clearcut breakaway.
At the next whistle, officials reviewed video and ruled that Gaudreau had poked the puck over the goal line on a wrap-around before Murray pushed it out.
Referee Dan O'Halloran announced it as a goal, giving Nashville a 2-1 lead 3:45 into the second.
"I heard it on the bench that it was possibly in the net," Gaudreau said.
"I wasn't certain, but when they put the replay up on the scoreboard I sort of thought it was in."
Crosby had another break-away midway through the period, but this time Rinne stopped both the first shot and the rebound.
The 6-foot-3 Finn then dived across his crease to stop Guentzel just as the Pittsburgh forward swooped in.
Arvidsson made it a 3-1 Nashville lead with his first goal since the end of the first round, and Forsberg sealed the win with an empty-netter with 3:23 left.
Associated Press