China supports marine-friendly 'blue economy'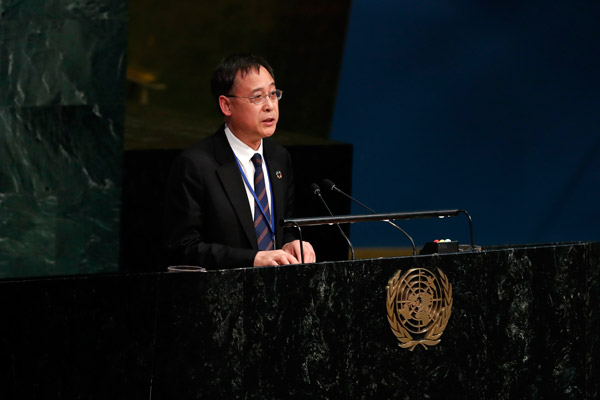 Lin Shanqing, deputy director of China's State Oceanic Administration, address the United Nations Ocean Conference at the UN headquarters in New York on June 7. [Photo/Xinhua]
China calls for the development of a "blue economy" to optimize the traditional marine sector and speed up the development of emerging marine industries while promoting sustainability, a Chinese official said.
Lin Shanqing, deputy administrator of China's State Oceanic Administration (SOA), said at United Nations headquarters that the global community at the international, regional and national levels should take advantage of each other's experiences in marine economic development to establish environmentally friendly marine industries.
"It is important to adjust an optimized traditional marine industry, speed up the development of emerging marine industries, and encourage marine resources and development and marine eco-environmental protection simultaneously," he said on Wednesday during the third day of the UN Ocean Conference.
The conference explores how the global community can achieve ocean sustainability and conservation, also known as the Sustainable Development Goal (SDG) 14 of the 2030 SDG agenda.
China has registered five voluntary commitments to SDG 14: strengthen the protection of the marine ecological environment, enhance the international marine cooperation in Asia Pacific region, improve the ability of marine observation and early-warning and disaster prevention and mitigation capacities, strengthen scientific and technical innovation and international cooperation, and develop a sustainable ocean economy.
China plans to establish 10 to 20 demonstration zones during the 13th Five-Year Plan (2016-2020) period to test ocean economy polices. The zones will plan projects that aim to strike a balance between sustainable development of ocean industries and protection of the marine ecosystem, according to a guideline by the National Development and Reform Commission (NDRC) and SOA.
"We are now shifting from paying equal attention to both marine development and protection to prioritizing marine ecosystem protection," Lin said. "Projects that endanger marine ecosystem would not be given the green light," he said.
SOA introduced China's first regulation on shorelines in March, which requires that no less than 35 percent of the country's total shoreline should be natural by 2020. It calls for 30 percent of the ocean to be protected from coastal development activities. China also extended the annual period of banning fishing from four months (June to September) to five months (May to September) this year.
Zhang Haiwen, director-general of the SOA's department of international cooperation, said cooperation in the Asia-Pacific region will focus on ocean economy, function planning and trash management.
"We can share our experience with other countries," Zhang said. "We also need to work with other countries in technology and innovation in terms of developing ocean renewables, upgrading traditional oceanic industries to make them sustainable. … China's development is the biggest contribution to the world."
Lin said in his speech at the meeting that China is willing to "actively establish" an open, inclusive and mutually beneficial blue partnership with other countries and international organizations.
"[The] establishment and implementation should be appropriate to and serve the diversified theme of sustainable marine development, dovetail with national economic and social development goals and tackle global marine-related challenges," he said.
The international community should join together in assuming the "responsibility of global marine governance", encouraging the active implementation of ecosystem-based management of oceans and coastal zones and the tasks of coastal rehabilitation and conservation, said Lin.
"We all live in this global village, sharing one and the same ocean. China is willing to work with all countries to implement the SDGs as our mission and create a more beautiful blue future for our posterity," he said.