People are key to peace: former Japan official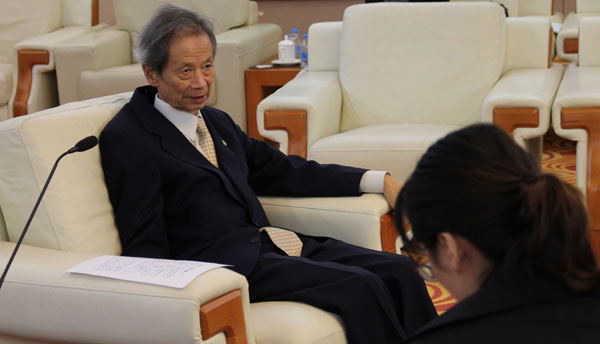 Eda Satsuki, Japan's Former President of the House of Councillors, speaks during an interview. [Photo by Zhang Ruoqiong/chinadaily.com.cn]
The Commemoration of the International Day of Peace is being held from September 20-23, in Yinchuan City, Ningxia Hui Autonomous Region of China. Dignitaries, non-government organizations, think tanks from 33 countries and Chinese experts and scholars are attending the commemoration.
With the theme of "People Aspire to Lasting Peace and Sustainable Development", the Commemoration is jointly sponsored by the Chinese People's Association for Peace and Disarmament, The United Nations System in China and The People's Government of Ningxia Hui Autonomous Region.
Eda Satsuki, Japan's Former President of the House of Councillors, told China Daily the United Nations decided on the goal of sustainable development, saying focusing on the people themselves is of great importance in the world.
He said there were many ways to deepen the friendship and trust between people from different countries, but that little progress and effort was being made. He wished international society would continue to improve in this area.
The International Day of Peace was established in 1981 by the United Nations General Assembly. In 2001, it adopted a resolution which decided to set September 21 as the International Day of Peace. Since then, the UN puts forward the theme of the International Day of Peace every year, holding a commemoration and calling on all countries to host various commemorative activities.
Eda Satsuki said it was with regret that Japan had placed less importance on the work of international peace, despite the annual day running for 35 years. Japan has been focusing on bilateral relations in recent years, thus causing conflicts of interest.
He said although there were some conflicts of interest in Sino-Japanese diplomacy, mutual assistance and friendliness between citizens had been continuous.
Eda Satsuki spoke highly of China's recent economic and social development.