Tributes flow after soccer player's death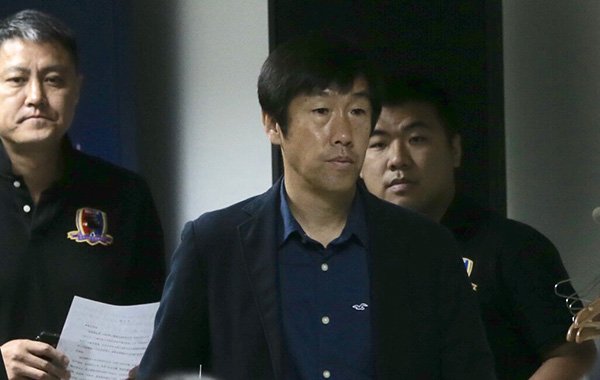 Gao Hongbo, head coach of Beijing Enterprises Football Club, attends a news conference in Beijing on Tuesday about the sudden death of midfielder Cheick Tiote. Photo By Hei Ke / For China Daily
Coaches, players and fans of Beijing Enterprises Football Club paid tribute to Cheick Tiote, the player from Cote d'Ivoire who died suddenly on Monday.
The midfielder, who was to celebrate his 31st birthday on June 21, fainted near the end of a regular training session, the club said on Tuesday. He was pronounced dead at a nearby hospital after emergency efforts at the scene and hospital failed to revive him.
It was widely reported that Tiote died of a heart attack, but the club said at a media briefing on Tuesday morning that tests are ongoing to determine the exact cause.
"He was immediately rushed to the hospital but passed away at 7 pm," said Yang Junsheng, general manager of the club. "We've contacted his family about the tragedy and have offered any support for further arrangements and investigations."

Yang said the results of Tiote's preseason physical check did not expose any cardiac issues that might lead to fatal consequences. None of the training sessions or games he participated in showed any hint of health issues.
Tiote signed with the Beijing Enterprises FC - known locally as Beikong - in February from English Premier League club Newcastle United. He was a member of the Cote d'Ivoire team that won the African Cup of Nations in 2015.
A formidable defensive midfielder, Tiote played 11 games this season for the club, which is in China's second-tier league, including the 4-2 home victory against Baoding Rongda on Saturday.
Beijing Enterprises' head coach Gao Hongbo praised the tough-tackling midfielder's contribution to the team.
"Tiote made a great contribution to the team and was recognized as a dedicated member of the team by the coaching staff and teammates for his superb ability, work ethic and professionalism," said Gao, a former Chinese national team coach.
In an interview with the BBC, Rafa Benitez, head coach of Newcastle United, hailed Tiote as "a true professional, dedicated, and above all a great man".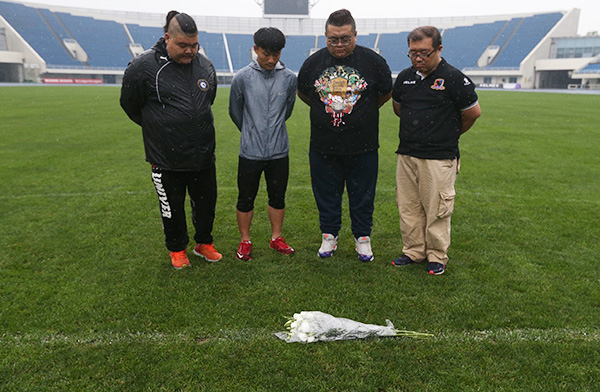 Fans pay tribute to Tiote at the National Olympic Sports Center, the club's home field, on Tuesday. Photo By Hei Ke / For China Daily
During a ceremony organized on Tuesday morning by Beijing Enterprises at the National Olympic Sports Center, the club's home field, four fan representatives bowed in front of a bunch of flowers laid on the pitch to express their sorrow.
Sudden deaths of athletes due to heart problems, especially soccer players and marathon runners, have made headlines worldwide, ringing alarms for governing bodies to improve emergency procedures and first-aid measures.
Zhang Shu, a cardiologist at Beijing Fuwai Hospital, called for greater use of devices such as defibrillators for instant cardiopulmonary resuscitation after heart attacks. Zhang said training for team medics should be adopted by China's professional sports clubs.
As Chinese soccer teams are restricted by a foreign player quota, Beijing Enterprises filed an application with the Chinese Football Association for permission to sign an emergency replacement for Tiote, Gao said.
"What we can do is to turn our grief into strength to prepare for the next game, and hopefully comfort the fans with another win," he said.
sunxiaochen@chinadaily.com.cn
Most Popular
Highlights
What's Hot