Baijiu maker moves upmarket to boost profit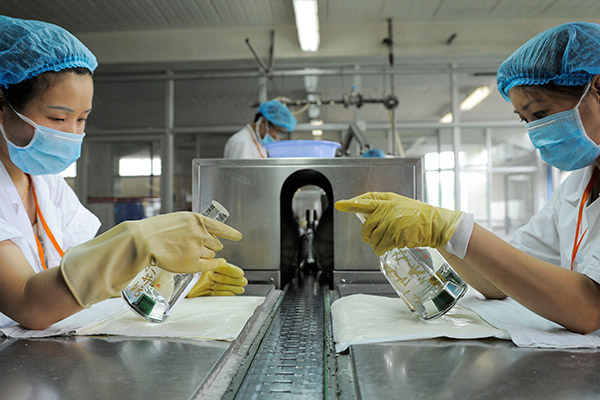 Workers check packaged liquor at a workshop of Shuijingfang Group Co Ltd in Chengdu, capital of Sihuan province. [Photo/Xinhua]
Shuijingfang, a Chinese baijiu maker, aims to move upmarket to expand the brand with new investment and increased marketing.
John Fan, general manger of the Shanghai-listed company, told a shareholders' meeting on Tuesday that the premium baijiu, or rice liquor, sector in China was experiencing rapid expansion.
"We are targeting the brand at the very top of the market in line with the growth there," Fan said.
"We recently launched a product which is priced above 700 yuan ($103) per liter to tap into the premium market. If it works, we may launch products costing 1,000 yuan per liter," he added.
The company based in Chengdu was taken over in 2013 by Diageo Plc, a multinational beverage giant with its headquarters in London.
Shuijingfang had been suffering from falling sales and shrinking profits, as well as declining brand awareness.
But since 2015, the company has gradually been transformed. By Tuesday, its share price had climbed to 24 yuan compared with 15 yuan in June 2016.
"Shuijingfang has been recovering from a weak situation since 2015 with loss-making and brand problems," Fan said.
"We restructured the products, pricing, distribution and marketing. Now, we are realigning the brand," he added.
Shuijingfang will invest about 102 million yuan on marketing this year which is double the figure in 2016.
Plans are also under way to expand its nationwide distribution networks, particularly in key markets such as Henan, Hunan, Jiangsu, Guangdong, Sichuan, Beijing, Shanghai, Zhejiang, Tianjin and Fujian.
While China remains the company's core market, its products are distributed globally through Diageo's worldwide network and stocked at duty-free stores in more than 70 international airports.
Last year, Shuijingfang recorded sales revenue of 1.18 billion yuan, an increase of 37.61 percent compared to the same period in 2015.
Net profit was 225 million yuan in 2016, which was up 155.52 percent compared to the previous year.