Changes at the top of LeEco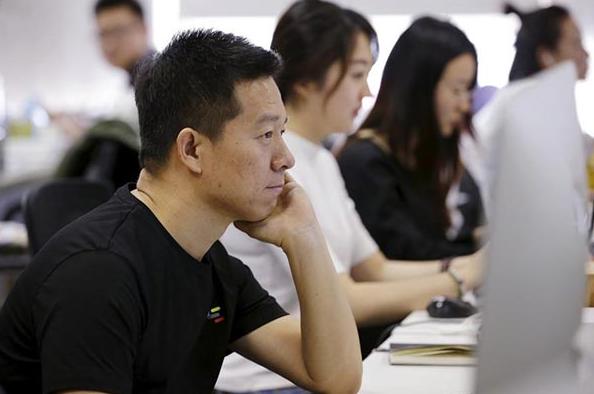 Jia Yueting, founder and head of Le Holdings Co Ltd, also known as LeEco and formerly as LeTV, uses a computer on a staff's seat as he poses for a photo after a Reuters interview at LeEco headquarters in Beijing,picture taken April 22, 2016.[Photo/Agencies]
The founder of Chinese tech conglomerate LeEco Jia Yueting will step down as chief executive of Leshi Internet Information & Technology Corp Beijing, according to a stock exchange filing on Sunday.
Jia will remain as chairman, focusing on corporate governance, strategic planning and core product innovation, according to the documents. The board has approved Liang Jun to replace Jia as CEO.
Leshi Internet Information and Technology, the Shenzhen-listed arm of LeEco, operates entertainment platform LeTV.
At a news conference on Sunday, Jia said that in the future, LeEco will be divided into two sections; the listed business and automobile. Other businesses will be combined into the listed business, NetEase Finance reported.
Founded in 2004, LeEco started as a Netflix-style video-streaming service provider, but it rapidly grew into a tech heavyweight with a presence in smartphones, TVs, sports, media and electric cars.
Last November, Jia admitted in an internal letter to his employees that the firm was facing a shortage of cash and suffering from expanding too fast.
Last month, LeEco abandoned its plan to acquire United States TV maker Vizio Inc for $2 billion, citing regulatory hurdles.
Trading in shares of Leshi Internet Information and Technology, which have slid 13 percent this year, remained suspended on the Shenzhen Stock Exchange on Monday.