Capacity cuts seen as opportunities for Rio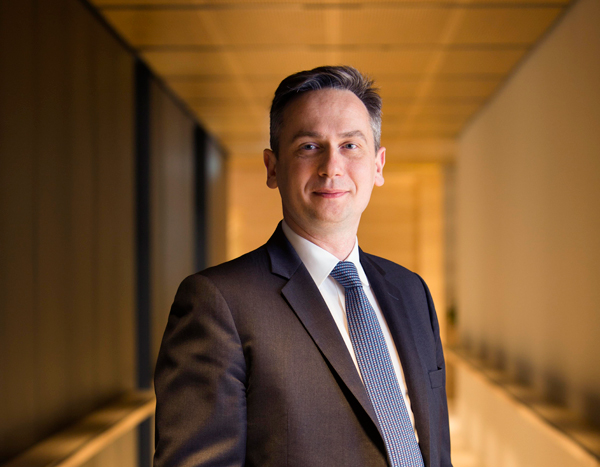 Jean-Sebastien Jacques, chief executive officer of Rio Tinto. PROVIDED TO CHINA DAILY
China's moves on steel expected to swing focus onto high-quality raw materials
Rio Tinto Chief Executive Jean-Sebastien Jacques said he was not concerned that China's continuing fight against overcapacity in its steel sector would hurt the business of the mining behemoth.
"Instead, the move represents a good opportunity for us as steel plants resort to utilizing high-quality assets and higher-quality raw materials," said Jacques, CEO of the world's second-biggest miner.
"I'm optimistic about Rio Tinto's business in China and if you ask me if I am worried about China in 2017, the answer is definitely no."
With substantial overcapacity in its iron and steel sector, China has vowed to continue with its overcapacity reduction this year, aiming to cut 50 million metric tons of steel production and analysts believe the initiative will reduce iron demand in the world's second-biggest economy.
Jacques said his company viewed the relationship with China as a mutual partnership.
"The overcapacity cuts mostly aim at scrapping polluting and less efficient plant, which will drive efficient producers to demand high quality minerals and resources such as iron ore, bauxite and copper that we produce," he said.
Rio Tinto's strategy was to build business around a set of tier one assets and the group was taking a value over volume approach, he added.
Recently, he spoke with China Daily about the company's strategy, business opportunities and prospects. The following are edited excerpts from the interview:
China accounts for 40 percent of Rio Tinto's revenue. How do you describe Rio Tinto's business in China in recent years?
China has been growing in importance and we have been working with China to realize its long-term strategic goals through sustainable business operations. At Rio Tinto, we want to be China's preferred supplier, preferred customer and preferred partner in our sector. We have been supplying the minerals and metals China needs including iron ore, bauxite, copper, diamonds, coal and borates for over a century.
How would you forecast Rio Tinto's prospects in China in the next five to 10 years?
Our relationship with China will become even more important in future years. The prospects for growth in China over the medium to long-term remain strong and this will drive demand for our products.
Over the next 15 years, the world is expected to consume more copper than in the past 20 years, almost as much steel as in the past 30 years and almost as much aluminum as in the past 40 years. So we remain very much focused on the bigger picture.
What business opportunities do you see as China promotes the Belt and Road Initiative? How do you think the new infrastructure can contribute to global growth?
Infrastructure including roads, rail lines, transport links and power generation are the key to supporting global growth and can unleash economic growth by creating jobs, increasing investment and enhancing productivity. China's infrastructure boom provides lessons for the rest of the world.
The world is already looking at how China, the Asian region and the world can cooperate and make better use of bilateral and multilateral approaches to deliver all-important regional infrastructure.
At Rio Tinto, our business sees the potential from a greater focus on infrastructure through the Belt and Road. We are pioneers in mining and metals, and produce materials essential to human progress which are also needed for the rollout of the Belt and Road through infrastructure. Multilateral groups such as the B20 are just as keenly interested and watching progress closely.
How has globalization benefited your business?
Globalization has been a significant driver of growth for Rio Tinto, by driving demand for the metals and minerals that we produce. We have witnessed first-hand the benefits globalization can bring as we were the first company to sign a joint venture and work with China to develop iron ore deposits in Australia. That joint venture, called Channar, is now celebrating 30 years of operations.
At the time it was China's largest and most successful overseas investment. Today China is Australia's and Rio Tinto's major trading partner. Globalization has developed its own momentum.
What is your company's biggest achievement here since 1983, when Rio Tinto set up its very first office in the country?
We take pride in supplying the aluminum, copper, borates, diamonds and iron ore that have helped underpin China's economic growth and raise living standards across the country.
We also are very happy to have helped quite a few Chinese manufacturers and suppliers raise their products to international standards and export their goods for the first time.
The most important achievement is continuing to build on our enduring partnership with China. Rio Tinto's relationship with China stretches back a century and it is now stronger than ever.
Are you optimistic about business in China, as there is a fundamental shift going on in a growing preference for the more efficient and less polluting end of the industry?
I am optimistic about Rio Tinto's business in China. China is experiencing an adjustment phase as it attempts to rebalance its economy and focus on quality of growth. Overcapacity cuts mainly target the polluting and the less efficient, which will drive the efficient producers that we supply. China's growth may continue to slow, but it will do so off an ever larger base which means demand for raw materials will still be huge.
How will Rio Tinto keep its edge and maintain its cost advantage against the long-term low iron ore pricing and overcapacity in China? What's your view about the country's ongoing efforts to address overcapacity?
We have a very clear strategy that is working. Our strategy is built around a set of tier one assets and in iron ore our Pilbara operations are amongst the best in the world. We are disciplined with our capital allocation and deliver superior returns for our shareholders. With our strategy in place, backed by a high-performance culture, we are well positioned to benefit from continuing demand across China and the developing world.
How do you distinguish Rio Tinto's from other competitors? What is your competitive edge over your rivals?
We are committed to the Chinese market and we want to keep building our long-term partnership with China and have been working with key Chinese partners closely, all of which helps differentiate us from other top industry players.
As a supplier, we are powering the Chinese economic development and urbanization through a long-term commitment to the country. Since the very first Rio Tinto shipment delivered to China in 1973, we have sold more than 2 billion tons of iron ore, highlighting the longevity of Rio Tinto's relationship with China. Our longstanding commitment to events like the CDF, where we have been a sponsor every year since it began in 2000, underlines the importance we place on China.
How has Rio Tinto's expansion in China been going so far? What strategies will you adopt to expand your business in China?
China is already our largest customer responsible for about 43 per cent of sales revenue in 2016. What is clear to us is that the relationship will only become more important in the future. We view the China relationship as a mutual partnership. In the past 10 years, Rio Tinto has purchased about $7 billion in goods and services from China for use in our operations worldwide. This figure will continue to grow.
During your trips to China, is there a place that particularly impressed you?
Beijing and Shanghai are the cities that I visited most during my trips. Both look and feel quite impressive and full of energy. I was in Hangzhou last September for the G20 and found it a wonderful city.
What are your hobbies?
I like rugby and often watch it with my two daughters, which allows me to spend more time with my family.
CV
Age : 45
Career:
・ 2016 onwards: Chief Executive, Rio Tinto
・ 2015-16: Chief Executive, Rio Tinto Copper & Coal
・ 2013-15: Chief Executive, Rio Tinto Copper
・ 2011-13: President, International Operations, Rio Tinto Copper
・ 2003-11: Group Director Strategy, Tata Steel Group
・ 1998-2003: Aluminium Controller, Pechiney
・ 1996-98: Manufacturing & CI Engineer, Vallourec & Mannesman
・1994-96: Manufacturing Engineer, L'Oreal
Education:
・ 1994: Master of Science from École Centrale Paris
Family: Married with two daughters