LeEco plans sale of $420 million Beijing real estate: Sources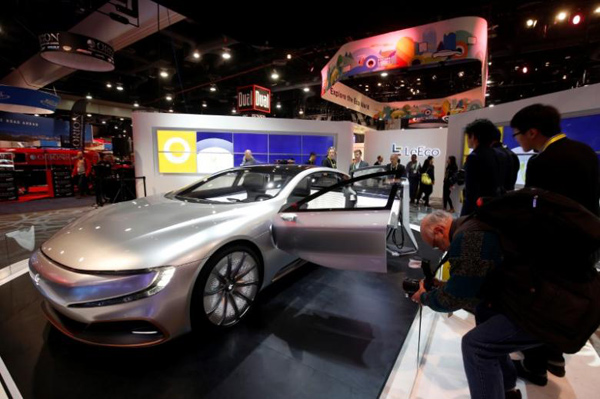 The LeSee Pro electric concept vehicle by LeEco is displayed during the 2017 CES in Las Vegas, Nevada Jan 5, 2017. [Photo/Agencies]
Chinese tech conglomerate LeEco is in talks to sell a prized property asset in the heart of Beijing it acquired in a $420 million deal last year, the latest effort by the electric car-to-smartphone behemoth to raise funds amid a severe cash crunch.
The company plans to sell either all or a majority of its Shimao Gongsan retail property in a popular area on the east side of Beijing by divesting from two firms it owns, two people with direct knowledge of the matter said. LeEco has been in talks with potential investors for some months now, the first person said.
Reuters could not immediately ascertain the identity of the potential investors or the likely deal price, but one of the people said the discussions are in an advanced stage and the price likely will be higher than what LeEco paid for it.
LeEco, centered around a Netflix-like video platform operated by its listed unit, has been one of China's boldest tech firms, ambitiously pushing into the US market and looking to take on Elon Musk's Tesla Motors in high-end electric vehicles.
The firm's wide spread, however, led its billionaire founder and Chief Executive Jia Yueting to admit in November that it was facing "big company disease" and battling a cash crunch after expanding too fast.
The firm is now reining in its spending, looking to sell property in the United States and scrapping this month a $2 billion deal to acquire US TV maker Vizio.
The two people said LeEco hoped to sell the 50,000 square meter Beijing property in the Sanlitun district by divesting from two firms it owns - Beijing Fortune Times Property Co Ltd and Beijing Baiding New Century Business Management Co Ltd.
LeEco bought the firms, which control the property, for a combined 2.92 billion yuan ($424.15 million) in May last year from Shimao Property Holdings Ltd.
The planned sale would free up funds to allow LeEco to revert focus to its core businesses, particularly its smartphones, TV, LeSports unit, and auto segments, the two people said.
LeEco declined to comment when contacted by Reuters.
Back to the core
CEO Jia has pledged to pay more attention to the listed business, Leshi Internet Technology & Information, which operates entertainment platform LeTV, and would look to integrate other parts of the business into that unit.
The second person said the plans to sell the Beijing property were "part of rationalizing the core businesses". Both sources asked not to be named as they were not authorized to speak publicly on the matter.
LeEco has investments from sports rights to taxi hailing platform Yidao Yongche as well as business units focused on smartphones, online entertainment to household appliances.
Earlier this week Yidao's founder Zhou Hang said he had left his managerial role of the ride-hailing unit and alleged LeEco, which owns a 70 percent stake in Yidao, had "misappropriated" 1.3 billion yuan ($188.84 million) of Yidao's funds to cover its debts. LeEco later denied the allegation in a statement.
In February LeEco's sports unit also lost the television rights to the Asian Football Confederation matches, after reports that it had fallen behind on payments. The firm said then it had "let down" its users.
The second person said the firm would still look to expand internationally, but would do so with "more discipline".
LeEco has also cut staff in China, the United States and India. Local media said it was scaling back plans in Russia.
Trading in shares of the listed unit, which posted a 3 percent drop in 2016 net profit on Wednesday, is currently halted.
Agencies