Dow says chemistry is just right for growth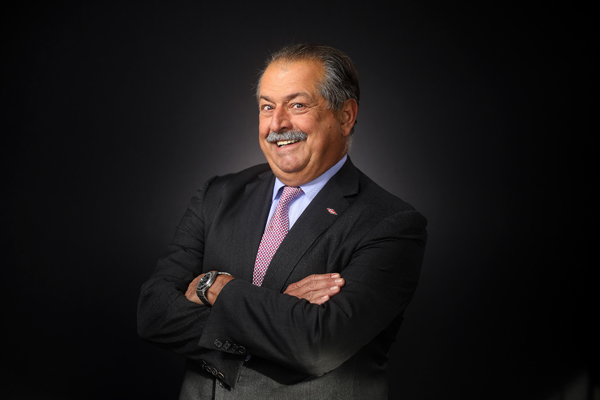 Dow Chemical Chief Executive Andrew Liveris PROVIDED TO CHINA DAILY
Energy and capital intensive giant willing to stay longer and share more in China
Against a backdrop of reports that some multinationals are pulling back their low-end manufacturing operations from China in the face of struggles with rising labor costs and growing competition from local rivals, Dow Chemical Chief Executive Andrew Liveris is resolute, saying: "That's not Dow."
Panasonic, as one example, ceased manufacturing of televisions in China in 2015 after 37 years of operating in the mainland.
But as some international companies have developed a more cautious attitude to their investments or moved their factories to neighboring countries, Liveris said his company was doing the exact opposite.
"Those multinational factories leaving for either Vietnam or the Philippines are seeking low costs, whereas Dow is not labor intensive-we are energy intensive and we are capital intensive."
"Science and R&D is growing in China and we are part of that growth," said Liveris.
"Dow has been investing in intellectual property development that's invented in China, made in China and sold in China, and that should keep growing in China for the obvious reasons."
Liveris suggest the government should further encourage entrepreneurial innovation to invest in technology that will allow China to move up the value chain in many industries.
"China has now reached the stage where it's big enough in its own right to develop its own intellectual property, and Dow welcomes that because it raises standards and the barriers to entry and means very few companies have the capability of developing the technology by investing in R&D and science," he said.
"I have seen us grow spectacularly in 10 years, better than our peers, and we are not leaving China."
Recently, he spoke with China Daily about the company's strategy, business opportunities and prospects. The following are edited excerpts from the interview:
Has the company witnessed a growth or decline in the past year's performance in China?
We have seen volume growth and the driver behind that is the fit between Dow's solutions and the market's needs in China.
China is big enough with many different geographies, markets and industries, so that when high-tech meets manufacturing and the old economy, China should be a leader in these areas, especially in environmental protection.
Dow is very suited to growing with China, with a strategy of integration and innovation, and that's why we are expanding here. We have a large R&D presence in China. Our Shanghai Dow Center has 700 scientists, working together with our customers to develop China solutions.
We have also diversified our geographical footprint away from just Shanghai, Guangzhou and Beijing. We now have business centers in western, central, northeastern and northwestern China-to be close to local markets and provide on-the-ground support to our local customers.
What business opportunities do you see as China promotes the Belt and Road Initiative?
The Belt and Road Initiative is unleashing tremendous opportunities in China, particularly in less developed inland areas.
For example, sustainable urbanization of western and northwestern China and the technological development to lift people out of the low end of the income scale is creating demand for advanced technologies and products and ultimately factories that we build to supply them.
Dow has expertise in addressing the needs in infrastructure, housing, transportation, food and water. We are now building a coating plant in Chengdu, which will provide high-end coatings for buildings, construction and roads in the vast western region of China.
Dow opened its office in the Xinjiang Uygur autonomous region in 2015 to follow the government's Belt and Road Initiative. Since then, our business in the northwest has been expanding quickly as we forge partnerships to explore business opportunities there and in Central Asian markets.